Being a designer and a blogger basically requires me to face my computer almost the whole day. From 10 to 7 in office, and as soon as I reach home and done my dinner and bath,  would usually have to spend one or two hours in front of the com again for blogging purposes. This sometimes could end up till way past midnight. It is the same for weekends since I too had to spend most of it doing my blog posts. Comic blogging requires more time than usual for me.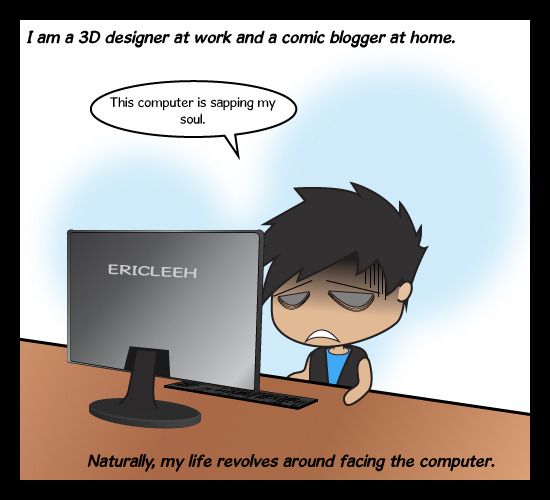 So it is no surprise that I ended with frequent discomfort on my neck and shoulder areas. Remaining in a seated position to work on my com is such a strain to these areas. Probably the only way for me to relieve my aches would be taking a simple 15 minutes break by lying down on the bed. (And Caroline thinks that I am just being lazy) But trust me, that is not the best way for it. I will usually need a whole full day of rest to get back to my 100%.
So going massages would be a good choice but it will hurt my wallet so bad, I will have to do more work to cover back the expenses and hence I will need even more session. And plus, the money is good enough for me to go for a very satisfying feast instead. Besides, time is an issue as well. I am not complaining about the amount of time I need to dedicate to my work, blog and video group as I know it is necessary. But sometimes 24 hours a day just ain't enough.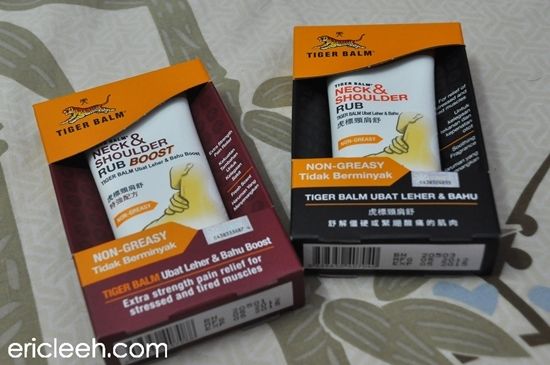 So when I was offered and shown this product, I was told that these two are the only products in Malaysia specially formulated to provide relief for neck and shoulder aches. It would be a perfect product for me since I need to relief those aches especially after long hours of work in order to concentrate more on my work or have a good night sleep. And since it came in a 50g small flat tube, it makes it more convenient for me. The portability means I can bring and use it anytime and anywhere I want.
Since this is produced and manufactured by Tiger Balm, the world leading brand in products specializing in relieving aches and pains, whom am I not to trust? So I decided to give it a go. There are two different products in this series.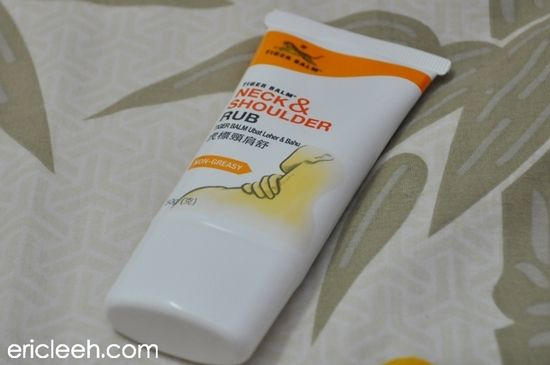 Firstly would be the Tiger Balm Neck & Shoulder Rub. It is manufactured to relief pains in neck and shoulder region. It comes with a lavender scent that would soothe the user to help relaxation.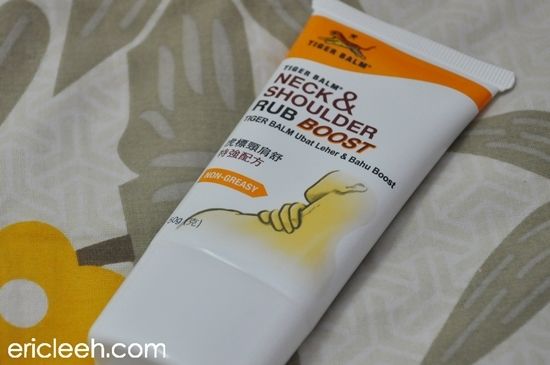 This is the Boost Variant which would be the stronger version in relieving muscle aches. It provides fast and extra relief for severe and overstressed muscles in the neck and shoulder region.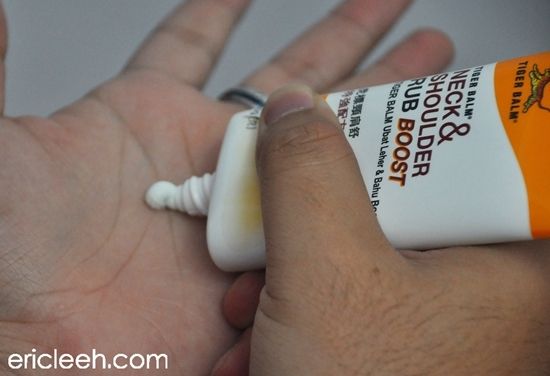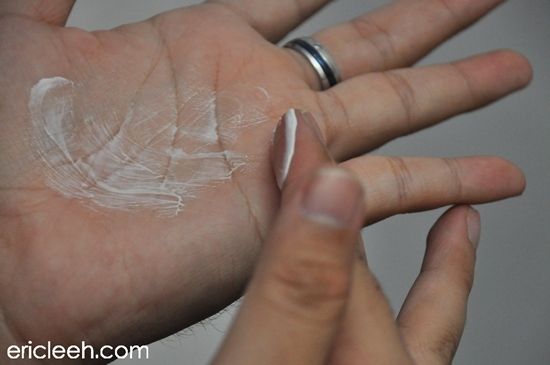 Upon squeezing some onto my palm, I'm surprised that it is not greasy at all. I initially thought it would turn out to be like the typical sunblock lotion where I had to unwillingly bear the greasiness on my body once applied. It does not leave an oily residue on my skin. This makes it even easier to apply on.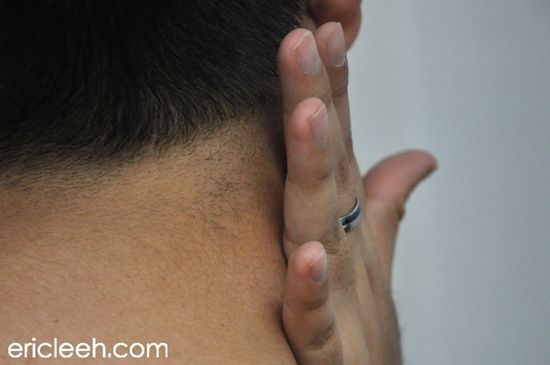 Applying on the skin had been a smooth process due to its non-greasy texture. The scent is overwhelmingly refreshing as well. The normal Tiger Balm Neck and Shoulder had a hint of lavender scent in it but it is quite minimal to me. The Boost Variant had a really overwhelming scent with an exceptionally strong hint of menthol to go with. The Boost Variant is supposed to invigorates and provide extra strength in relieving muscle aches and tensions. The scent did make me more awake since it is quite overwhelming but I am still wondering if it's gonna provide me the necessary relief I need.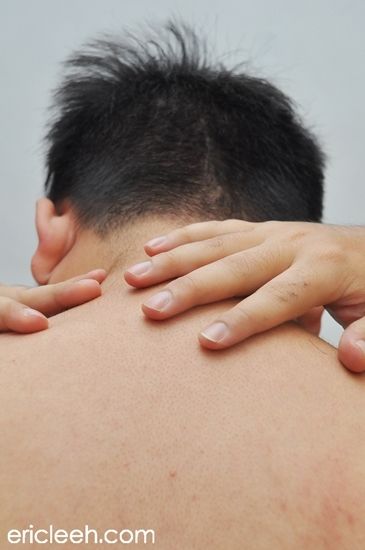 After several minutes, I can feel the effects starting to take place. It does efficiently relief the tension in my neck and shoulder. I felt my shoulder had been a lot lighter and I am sure it could give me some extra push to work further. I felt that the product does work efficiently and fast. I thought I would expect a minimal of 15 minutes before feeling the effects of the product. (No more excuse for procrastination anymore, damn it). I definitely felt rejuvenated after using and no doubt, I would recommend this to anyone who likes an analgesic product for relieving aches and pains in neck and shoulder region.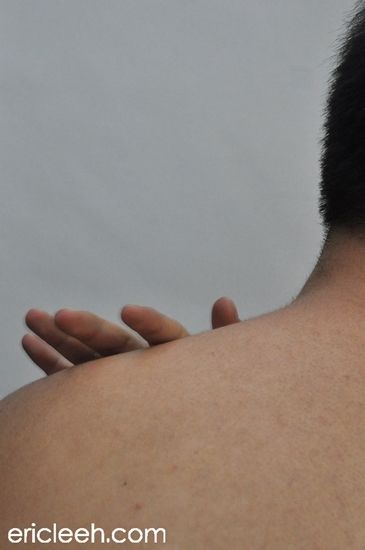 Applying the product is as good as someone giving out a good massage to me to help me release the tension and aches built up in the upper region. Have someone to use it and massage it for you on bed with some good music on, there you have a portable 5 star spa at your very own home. I guess this fits to their selling point of massage on the go due to its portability. You can use it for massage practically anywhere you want even when chilling outside with your friends watching a live football match while having the sexiest mamak guys serve you teh tarik. Now I would have to devise a plan to convince Caroline to actually do that for me. Now where's the tube of ice creams that I had been hiding.

Related posts: