Everyone has an ambition growing up. Even a a bum or a criminal. Sometimes, it doesn't matter how dumb or unrealistic your ambitions are, you will still work hard for it. Be it trying to do a Kame Hame Ha in hoping to destroy the school (darn comic got me cheated for so many years) or trying to be a doctor or anything. This is a story of my childhood ambitions.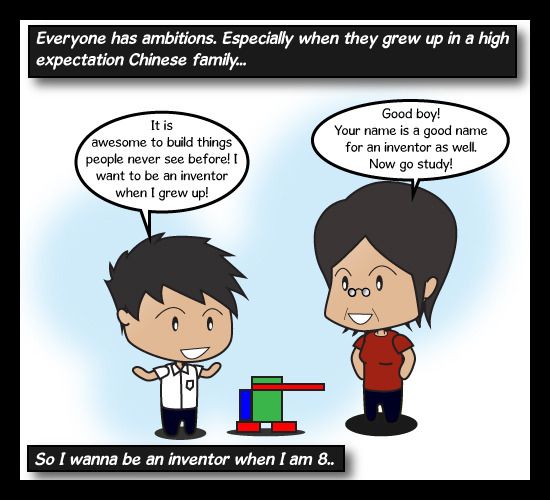 For those who are wondering what's the deal with my name, you can read my post HERE.

By the way, the picture there is really my design (I just had to say it). It was for the launch of the new shopping mall back then, Viva Home, Cheras, Kuala Lumpur. Basically that's what I d0 for a living. I am an event designer. Far off from the inventor ambition theoretically but in terms of what I really want to do, the principle is the same. Ever since I am young, I like to build stuffs with Legos, models and Tamiya cars. I experimented a lot especially with my Tamiya cars. I tried to build in a custom LED headlight, trying to make a boat out of the parts, trying to combine the engine with my models so they can move and many more. Basically, I wanted something unique because I saw potential in them. But then again, I hated Science and Maths (and I am only good in Maths actually, probably the Chinese genes).
As I grew up, I realized engineering and science are not exactly my forte as I suck at it. I hate doing them. But at the same time, I love drawing despite being really mediocre in it. So I wanted to draw comics. Because to me, it is still creating something unique. But then again, I suck at drawing actions, shadings and panelings. I can't even draw a female character properly. I was lost and didn't know what to do like a lot of teenagers. Then I discovered design. Design is basically a world where inventing and visual creativity co-exists. This is how I end up being a designer. I design structures and it gave me the same feel of accomplishment I had when I was young and doing my experiments. I found what I really wanted to.
Then I discovered comic blogging with much influence from the top comic bloggers like Jian, RED and Ernest. Without them, I didn't realize I could come up with an alternative of comic with the strengths I had in writing and story telling. (wouldn't know if you agree or not but I like to feel so). So hence, I realized my childhood ambitions in a way.

So what's your childhood ambition? What had you done that makes your younger self proud? I know I might be a letdown for him as I am not an accomplished inventor or comic artist (that little bastard got to learn it the hard way), but I am pretty contended and it is the closest to my childhood ambitions and probably what's best suited or I actually wanted to do all along. So what about yours?
Yes. That damn little sh*t is screwing up all my plans to reminisce on my childhood. Well done, young me. You are an a**hole ever since you are young. Well done.
Related posts: