How to be suave and charming to attract the opposite sex you ask? To be honest, I have not much of an idea. Physically, I'm pretty average and in fact probably below especially due to my height. It is always been tough to get girls to notice me since I'm short because most girls would want their boyfriends to be tall despite some of them being shorter than 5 feet. *grumbles*. Yes, that includes Caroline. She too wanted and preferred someone way taller while I'm just taller than her by 3cm. So how do I compensate my looks department in order to charm the opposite sex? How to flirt with girls? How to talk to girls?
Before  continue, I would like to clarify one thing. I'm more of a recluse. I rarely goes out and in my whole life, I only been to club once which I did not enjoy it much. The next thing closest to a club would be Heineken bottle launch since its my company's event. I rarely interacts with new people and even bloggers. Ever since Caroline came down to KL, she is the one who actually brought me out. Some might ask what would that makes me qualified to talk about charming girls?
Well, since I used to be socially awkward (actually still am), I manage to date. And I'm with Caroline. Not sure if that wins any of your confidence but do enjoy.


This is true. I last time used to ask people around how do they get a girl, how do they flirt, how do they charm some girls and the list goes on. Like I said, I'm a bit socially awkward and I would only showcase my crazy antics in front of my close friends. I personally do not think all this work. I'm not sure about money because I didn't really have much to splash back in my single days. But I did went all out. Boy, did that turn out badly. There are many people who tell me this "Groom yourself nicely if not no girls would want you" or "If you don't keep up with the latest fashion, no women would pay attention to you".
The art of flirtation and charming girls had been so ridiculously defined, that I thought I need to look like Orlando Bloom and dress like  any of the Korean pop stars in order to have girls pay attention to me. But as I grew up, I knew some girls, talked to them and realized how some of these pointers look so ridiculous. I hereby present my argument and also the comic on my art of flirtation and how to charm girls. With your confidence, personality and speech.





So that's about it. Basically I felt this way, it would work very well. Even douche bags uses them unconsciously which made them be able to get so many girls. If you are looking to charm a girl, you need to work on charisma. get your confidence out. If that doesn't work for you. Here is a tip that would helps.
ALWAYS START WITH THE INTENTION OF BEING A FRIEND RATHER THAN TO HAVE HER AS A GIRLFRIEND.
When the expectation is lowered, confidence will go up and this will ease your way up to charm the girl. It would help to clear all your nervousness and also you will truly get to know that girl better. It is just as simple as that.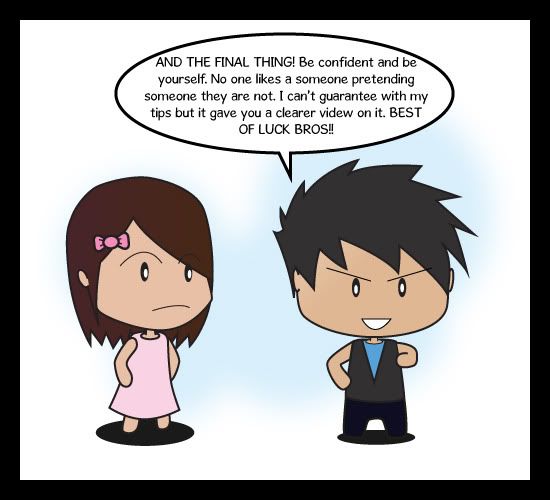 So this is my way of charming and being attractive to the opposite sex. Thanks to AXE Malaysia and Nuffnang Malaysia, that I present you this. How to charm girls effectively with your charisma. I'm not sure if it helps but I am not referring this to help you score a one night stand. I believed a true relationship is definitely worth all the effort I mentioned.
There are a lot more I could say on this but it is getting very lengthy. Hope you enjoyed this post as much as I did it. Leave a comment on what you think about this. Add in one or two moves of your own. Argue with me if you disagree.
Heck no, I'm not gonna answer that.
AXE Malaysia Facebook Page: http://www.facebook.com/AXEmalaysia
Nuffnang: http://www.nuffnang.com.my/
Related posts: