Partying has always been a part of Kuala Lumpur and Selangor's lifestyle. It is until that stage where it get stereotypical for anyone that resides in these two areas to just party all the time. People having harder time believing that I rarely goes to these parties compared to me telling them how gay I am. Yeap, it is that tough.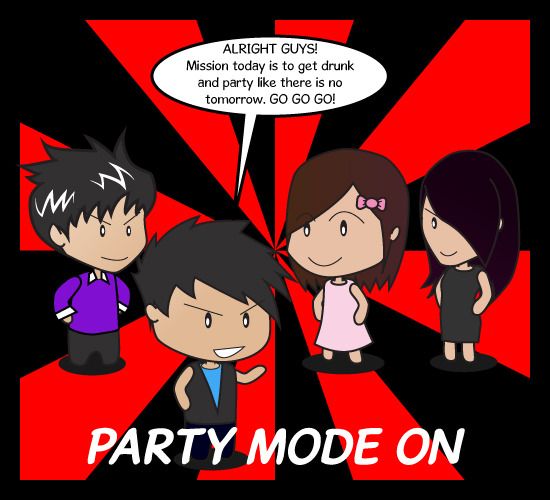 There with me for the party is
Ernest
,
Caroline
and
Sherlynn
. But before I go into the 4 types of people who are present, let me share what is going on during Hennessy at Kenanga Wholesale City. After all, this is an event post so do allow me to do some part of my work here.
Hennessy Signage
Waiting area
So before the partying started, we were gathered at the waiting area with free flow of Hennessy to keep us company. Although I felt that this area is kinda not necessary to begin with as it makes no difference before going in and after entering. I was hoping there are some games to keep us entertain. However, I did get to try the Hennessy 360 Cam which is awesome. This is the video below.
It is pretty cool as though I just entered and starred in one of the installments of Matrix and at some point, I wish the others would get off the stage and let me take on the whole thing myself. And I just realized that I am wearing a V-neckish shirt for that night. No wonder no girls approach me and there are someone hitting on Caroline. They must thought that I am gay!
The stage
The pretty impressive stage with projection mapping on the backdrop and also the DJ console. Probably one thing they lacked is a proper dance floor.
Caroline and the pretty bar girl
Us in our rare non-avatar pics in this blog.
The awesome company of the night.
Eric, Caroline and Zhao Hong
Bok, Caroline and Eric
There are a few ups in this party for me. I get to meet some blogger friends AND it is rare for me to catch up with both Wai Ken and Zhao Hong. We rarely did hung out since our basketball days in secondary school and this I believe is probably the longest that we had hung out together.
Hennessy Ginger
I am not a big fan of alcoholic drinks especially beers. But I liked what I was offered that night. First time having some Hennessy and I kinda liked how they taste. Not too bitter and the fragrance of it is delightful. Hennessy itself already had a noticeable sweet taste into it and so I would prefer to have it on its own or add in some soda to get it frizzy.
Huge crowd @ Hennessy Artistry
Emcees of the night
Eva Simons
Angger Dimas
Nasty & Guruguru
 Sorry that I couldn't get much pictures of the performances as it was too crowded for me to take pictures properly. I had deleted many shots as well. It is hard for me to get close to the stage as well as there are many people partying there. The music and crowd is absolutely amazing. The only problem is that the music wasn't engaging enough to the upper deck people at way back of the hall. Other than that, it is good.
I like the fact that there are many bar counters around which made taking drinks a breeze. You basically can walk blindfolded and have a high chance of bumping into one counter. The crowd is amazing and I had a good time spending there.
Ok, so before I end my post, I will present you the 4 types of party goer here.

I had a feeling if Sherlynn read this and she would argue that not much guys approach her. Yeah, I know. I just put this up for illustration purposes since you are in the same car as me. Consider it a favor for me driving you there. Ok, I am just kidding.
Yeap, basically that is what I do but obviously I had more than 1 drink.
If you are my friends or any hot girls, I DID have more than one drink. I have like 8 and I am still going strong without getting any tipsy. Awesome eh?
If you are my mom or dad, I did not have more than 1 drink. Trust me. I'm a good boy.
Bloggers of the night
Thanks again Ash for the invites for this awesome party. That wraps up my post for Hennessy 2012 at Kenanga Wholesale City (KWC), Kuala Lumpur, Malaysia. Let's see if there is another chance for this. Till then, see you guys!
Related posts: