This post is not only super late but it has no comic in it. Sorry to everyone who is expecting to see it. This year's H-Artisty had came to a closing last 3rd November 2012. It was the end of their trilogy series and with one their most impressive artists' line ups as well. I had a chance to go to this finale and now here I am reporting my experience in the finale of one of the most hyped party of the year.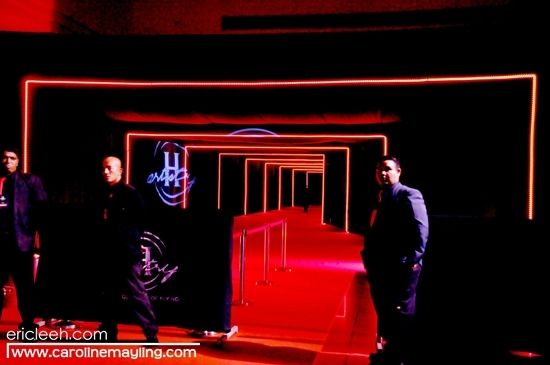 Upon reaching Mines International Exhibition and Convention Centre, I was impressed with how the hall looks. The tunnel decorated with strips of LED and black cloth had create a nice party ambient to set the mood.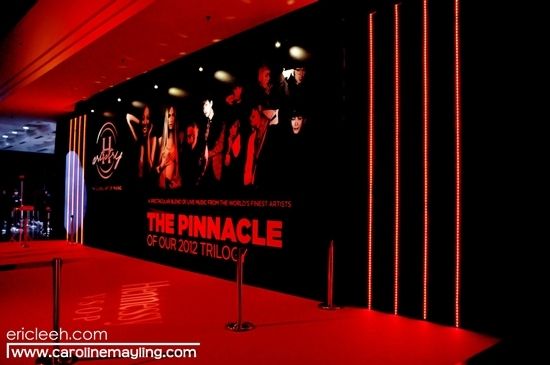 I was there early fearing that being late would result in limited parkings and also probably the possible traffic jam as well. About 8.30 pm, we were allowed to go in to the waiting area and in this area, we would be able to mingle around, grab our favourite Hennessy drinks and even have our photos taken with the Hennessey 360 Cam. But I wasn't really please with the fact that we were only be able to enter the main area by 10.30pm which I assume is late. Having to work in event line, I knew that every staff should have worked on the time coordination and most of the time spending more than a week at the venue trying to ensure things would run smoothly. I would only assume that they might have some technical difficulties (probably something with the staging and stuff) that hence the delay of our time of entry to the main area. This is only my assumption and hopefully in the future, such unfortunate incident could be avoided.
I was early and I was able to get a good picture of Evol. Actually, this is my first time hearing about this group but hey, who wouldn't want a nice picture of a group of Korean artists? Now let's hope they make it bigger so I can brag it to everyone that I had a picture of them.
Fortunately before entering the main hall, we were entertained by a local DJ mixing as well. Well at least the party mood didn't die off.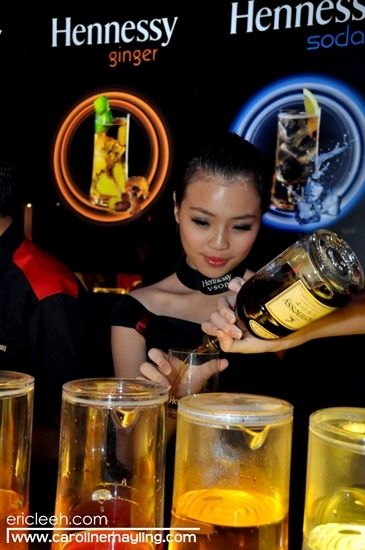 Lots of lovely bartenders or drink mixers or whatever you call it are ready to serve each and everyone there with the lovely mix of Hennessy drinks. Who wouldn't want their drinks to be served by lovely ladies and my problem would be why they have guys serving the bar back in the main hall. But at least the drinks are being brought over by another group of lovely ladies.
If you were to ask me to judge how the drink was, I'll be honest, I can't. The reason is because I wasn't an avid drinker and I rarely drinks. But if you ask me how I think of the drinks, well, I love being served with the drinks that night and definitely I drank more than back in KWC although I swore to myself that night not to drink too much.
I realized how lucky I was to arrive early at the event as the media photographer tags were limited and I happened to get my hands on one. This enables me to get to the front of the stage to get some much better picture. Never been more glad that I am early for the event since I get to get closer to the artists for pictures. However, the stage was a little bit too high for near photos opportunity. But it would be a perfect height to be spectated from all around the hall.
The first performance was from Block B, a Korean boy band doing a number of their hits. I wasn't too familiar with the boy band but judging from all the high pitch girly screaming from all around me the moment they perform, I can assume that there are a lot of girls who love them. I wasn't much of a fan of their music but seeing the K-pop fever in Malaysia is at an all time high, I think it is a good choice for H-Artistry to present them over here. Korean boybands = more girls attending and more girls attending = more guys would be attending as well.
Alexandra Burke was up next and for those who don't know her (which I highly doubt) she is the winner of The X Factor show during 2008. She gave an energetic performance and what I actually like about her is that she often gave credits to her dancers and always trying to share the spotlight with the dancers. You rarely would see a performing artist doing that and for that, I am enjoying her performance.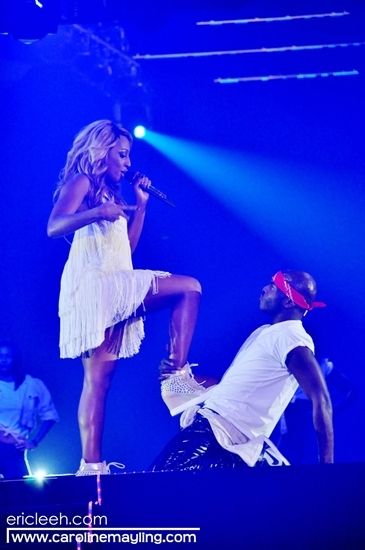 And with already an impressive line-up of artists, the good people from Hennessy decided to include a surprise addition to the line up. They brought in a Korean girl band group, Evol to perform for that very night. Evol is an up and coming girl band group from Korea and with their sweet and sexy dance moves to rock the stage, they definitely fired up the entire hall. Cheers and screaming can be heard all around the stage and definitely putting many guys feeling uncomfortable in their pants. A lovely surprise from H-Artistry and as a guy, I say thank you. Although I can't help but felt that ther are lip syncing in their performances but it could be just be me.
Performing next is Havanna Brown and I was totally blown away by her energy and performance. She is full with energy and kept going all over the stage letting everyone have a clear look of her giving out a kick ass concert experience. It was unfortunate that I couldn't stand much longer in front of the stage due to inconsiderate smokers all around me who didn't bother to mind where they are blowing. I felt terribly dizzy to go on continue standing there and decided to head back. It is such a pity that I couldn't get a closer picture of Havana Brown that night.
There is another thing that I wasn't too please that night. It would be the designated zone for me and the other bloggers as well. I personally wouldn't mind if it is situated around the corner but I always thought that zone is only allocated to members of the media and bloggers. Somehow, I found a lot of people over in that particular group of not members of the media or bloggers. It was crammed and uncomfortable, and I could barely move there.
In the nutshell, H-Artistry is an amazing night in my opinions ONLY if it doesn't start that late and the area to be crowded with possible non-bloggers or media people.  Other than that, it is actually a pretty good event. The performances are good as I felt that I am being invited to a concert instead. Thanks H-Artistry for the memorable night and I hope that in the future, the flaws in this year's event would be overcome.
Related posts: