So here am I once again, with a new fan girl-ing story. Are you bored with this? I hope not because I still got many more stories to come. And trust me, the ones I had been sharing these days are actually less epic than the ones I haven't even got time to draw and share with you guys. So for those who wanted to read my previous Fan Girls stories, here is the link.
Fan Girls Story: The WTF Moment
Fan Girls Story: I Made A Girl Cry
So a continuation from the last story, I was in charge of the entrance area to the concert zone. In that area, it is actually pretty darn close to the red carpet area. Which means, the artists will first go through the red carpet walk before heading to their interview room and then the concert. In short, this is the one and only chance, the fans get to see their artists up close. Here is what happened to the "crying" from the last story. She decided to wait at the entrance area where I am guarding rather than going to the red carpet area. And these are the early crowd.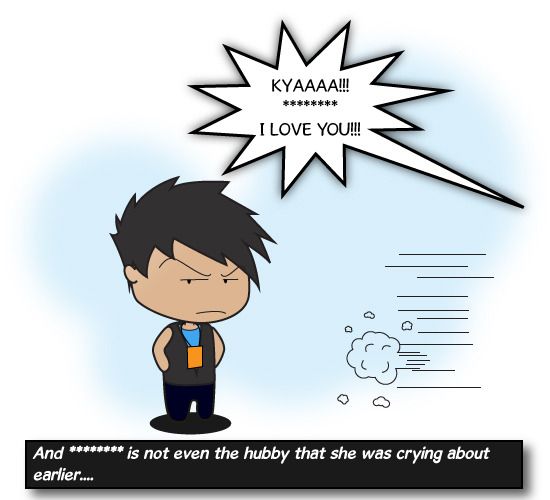 Yes. This is exactly what happen. Even the contents of t he chat. I only altered it slightly in terms of delivering message. Yes, she even said the "they are not as smart as me". In fact, she said that she chooses concert over red carpet. But as soon as she heard a name of a group (which I assume she idolized as well besides her "hubby"), she ran to the red carpet area with all her might.
Me and a few of the security members exchange looks with each other while shaking our head. We are expecting a big early crowd. We are expecting a crazy early crowd. But we didn't expect it to be this EPIC. For those who couldn't understand it or even doubt the validity of the posts I have made so far, here's a video from The Ming Thing that would let you know that I am not bullshitting.
A big thank you to the guys from The Ming Thing for accepting my request to help to cover this event. SO here you go. A slight peek to the fan girling scenes I had been blogging about so far.
I still have a personal video to share as well. I might do so in the next post. So what do you think? Think you can handle the Fan Girl fiasco?
Related posts: