SPM examination is about to finish. I bet every Form 5 kids right now will be super excited for the upcoming long break and finally graduating from high school. For those who don't know, Sijil Pelajaran Malaysia (SPM) is a compulsary examination for all Malaysia's high school student need to undergo before officially graduating from high school. I know by this time, there are some students who are discussing which college or university they need to go to after high school. This is one of my story.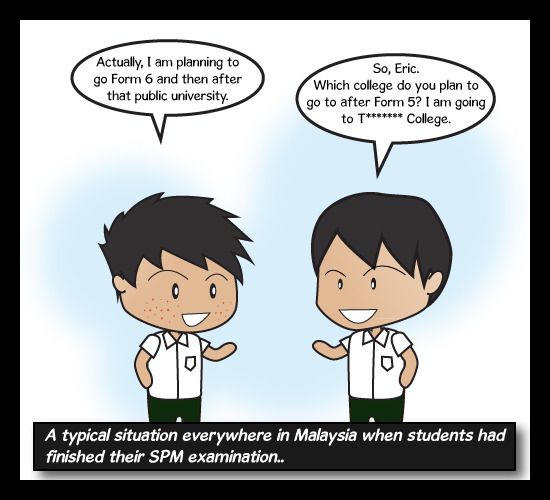 For those who are not aware, Form 6 is like an additional year in high school which is equivalent to an A Levels course. It is suppose to be 1 and a half year long and it will take 2 and a half year for a Form 6 graduate to take up an actual course in any of Malaysia's public universities (which are cheaper). Given the shortest course ever, it will need 3 years to complete one. So all in all, we will need slightly more than 5 years to get a bachelor's degree in Malaysia whereas some people could get one in 4 years or so.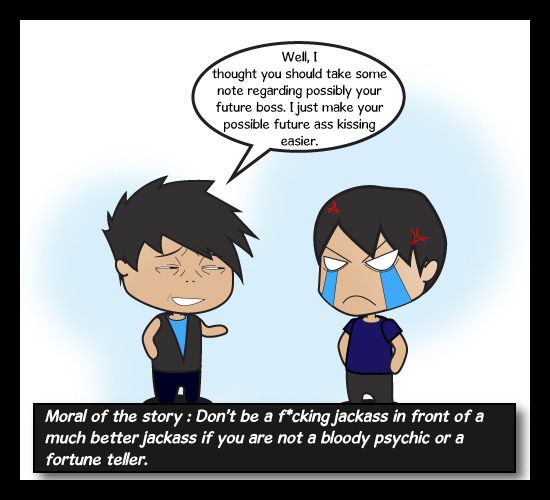 This is actually a true story if anyone is wondering right down to most of the dialogues used. And since wasn't that close with him to begin with, I don't give a sh*t if he get offended or not since he offended me first. Can't believe I kept this grudge for so long. In the end, I couldn't help but NOT feel sorry for that rich b*stard. It boils down to not the amount of time needed to complete the course but rather determination and effort. What they do not know is, even if I took an extra year two to finally get a course I felt suitable, it also means I have more time to consider and find out what is best for me. That's one thing why some private college students are not capable of doing. I had seen many flunked out and simply giving up on their studies because they felt it is not right for them. I wouldn't blame them as most of them were decided by parents and some do not have the much mature judgement yet at the age of 17. Don't get me wrong. I too knew a lot of excellent students from private universities or colleges who knew what they want and excel in it. So in the end, it doesn't matter whether where you study or how long it takes. It is just how mature you are in handling situation like this.
So how about you? Did you get what you want as your education? Do you have any scumbag friends like mine who decided to pour some cold water over my decisions but ended up failing?
Related posts: