The results for Ujian Pencapaian Sekolah Rendah (UPSR) were announced several days ago and it was slight nostalgic for me hearing how the kids were in total joy of their results. New about heartbroken or disappointed kids were nowhere to be heard or seen though. Anyway for those who don't know, UPSR is an examination for primary school kids in Malaysia. It is a national examination designed by the government to help "evaluate" a child's knowledge and also how well schools had done in producing students who did well in UPSR hence they will have more students enrolled the following year and that's how the cookie crumbles.
Well, I still remember the time when I went over to collect my UPSR result. It was nerve wrecking. Like most of the Chinese kids out there, we are actually waiting for the one fate that determines whether we would get our ass whopped that very night or not. So this is what happen to me.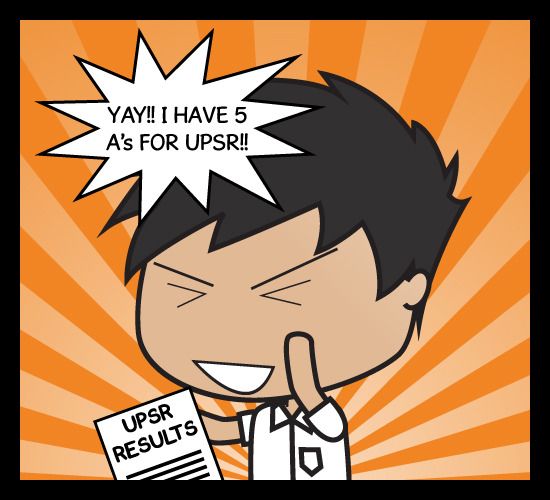 As you can see, my parents have high expectations on me. Not exactly a thing you can enjoy as a kid. Especially when I heard about getting 5 A's is not good enough. It's like owning a Ferrari but yet people still think you are stinking poor. That's exactly how I felt. Wait. There was more.
Yes, I don't even have a clue why would they gang up on me telling me that I didn't get more than 5 A's when I only have 5 subjects for that examination. Since I am from a national school, I was entitled to take 5 subjects for the examination whereas my cousin studied in a Chinese school, she had 2 extra examination for Chinese language. But that wasn't the main point. Yes, she did studied more for a language subject which I felt at that time. But then again, they were using that darn language for most other subjects where I used my national language, the Malay language for my subjects. I didn't seem to need much time to revise in the Malay language do I? But as a kid, I was thrown from cloud 9 to smell the stinking earth. Way to go for teaching a kid that achieving the highest possible achievement is not enough. I was bitter that time as a kid. A moment of celebration turned to despair and needless to say, I pretty much spent the week bummed out.
Yeap. Not only my primary school examination, it was the same case for my mid-high school examination the Penilaian Menengah Rendah (PMR). The talk of high expectation Asian parents do exists. If you felt I ranted too much about the past here, I am not. This is one of my bitter sweet childhood memories. It is also a reminder to everyone regardless how you did in your UPSR or how your kid does, cut some slack and praise their effort. It might seem as a trivial thing since the examination is meaningless as we became adult but it meant the world to the kid. I wouldn't say my parents are mean or anything. Probably my mom hoped to motivate me to do better next time but that actually backfires. On the other hand, my dad was supportive and would tell me "Good job!" whenever I tell him my good results. If they weren't any good, I will get my ass kicked thoroughly.
If you are wondering what about my SPM, well, that's another story.
How about you? Do you have over expecting parents as well? Or do you expect your child to overachieve in anything at all (I highly doubt much people would admit to it though)
Related posts: