Hey folks! It's Friday! It's also the 11th of January! This means a comic on my blog anniversary! I officially launched this blog back in 11th January 2011 which obviously means something to me. These 3 years had been massive for me. I seriously cannot believe that I actually evolved into doing this comic blogging seriously. Actually, I still love to write. But people had been thinking I am some old fart by reading my blog just because of the stuff I wrote. Me doing comics, had never crossed my mind before but it was definitely a good change as I brought a lighter mood to everyone who read my blog.
I still remembered the words of my fellow friend/reader who said that reading my blog posts lightens up her mood for the day and it meant a lot to me that an actual reader actually said that to me. I am not exactly a big time comic blogger like Bolehland, Miao, Ernest, Cheechingy etc. But I enjoyed what I am doing at the moment purely as a hobby and personal interest. But ENOUGH with all the personal ramblings or you readers will be ultimately turned off.
So today's comic is about inspiration. Inspiration came in the weirdest form. The comic bloggers like Wai Kit and Ernest shared with me before on how they find inspiration for their comics. Here it is.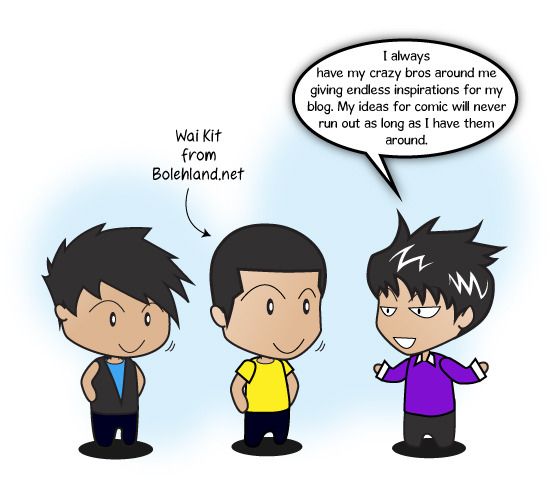 If you are an avid reader of my blog, you would know how often I blogs about Caroline and me. And you think by making fun of here would not put me into any dangers then you are dead wrong. I will be constantly bugged, nagged and tortured (which I assume will happen again after she read this blog). You see the things I would do to come up with stories for you guys? You guys should worship me even if you hated my blog and my guts.
So how about you? Where do you usually get your inspiration from? Any specific place, food or ritual when you need to have some deep thoughts like may be how to create the biggest and good looking piece of crap. Or stuff like that. Do comment below and let me know where do you usually get ideas for your stuff from.
Related posts: