What will you do if you walked down a street and stumble upon someone who looks fairly familiar? Someone you thought you haven't seen for a long time and you weren't sure if that particular person remembers you? Would you walk over to the person and greet him or her? Would it be an awkward moment? There are countless of times where I chance upon several familiar faces but didn't went over to say a simple "hello" and mostly due to the fact that I wasn't sure if that particular person remembers me. This is because I done once, the person had forgotten about me and it was awkward when I still remembers his name. Well, this other situation happened to me.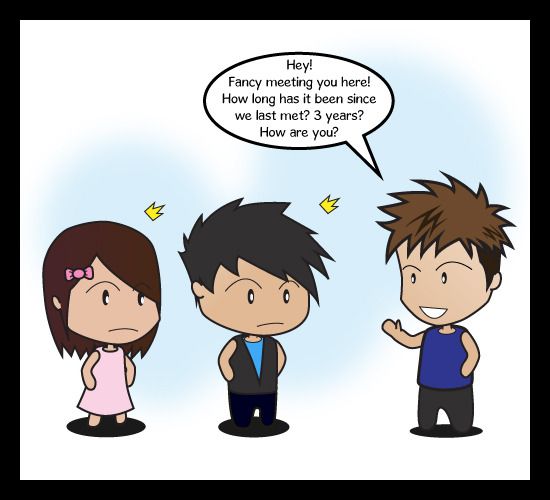 Turns out I didn't know him at all to begin with. For the first 5 minutes into the conversation, I thought I had forgotten about this guy. But then I realized, I didn't even know him to begin with. But we talked for 20 minutes without me denying that he is a complete stranger. He even asked about what is my brother doing! And considering me highly anti-social life, I assume only my high school friends knew much of anything about my brother. And I definitely remembers every faces from my high school whom I had acquainted with.
Then, I will assume that he had mistook me for some other guy. A situation that I am very familiar with in my high school life. It is to the point where I am no longer surprised with it I will reveal this next week. So do stay tuned as it would bound to be an epic story. Friday would be another total different story.
So how about you? Had you been in awkward situation where you mistook someone else? Or had you encountered the similar situation as mine as well?
P/S: Sorry for not replying any comments lately as I had been extremely busy for the past month or so. I could barely come up with any post as well but I pull up late nights and persevere for you guys! Definitely be replying them when I am slightly free. Thanks for all the ones who supported me and keep my blog alive! I am nothing without you guys.
Related posts: