Sometimes, lunch is one of the toughest decision to make. Especially when options are limited. I know because I had been going for the same restaurant for lunch for almost everyday and till the point everyone knows where the hell I am going to eat without me checking in into Foursquare anymore. No longer plays that shit anyway. But there is this particular case back in my uni days where options….are….just weird. At least to everyone I told. So let me share with you how is a typical lunch day at my uni's cafeteria where there are usually several stalls opened at the same time.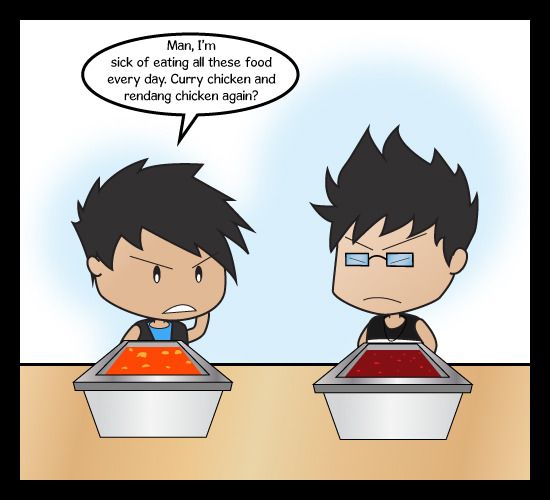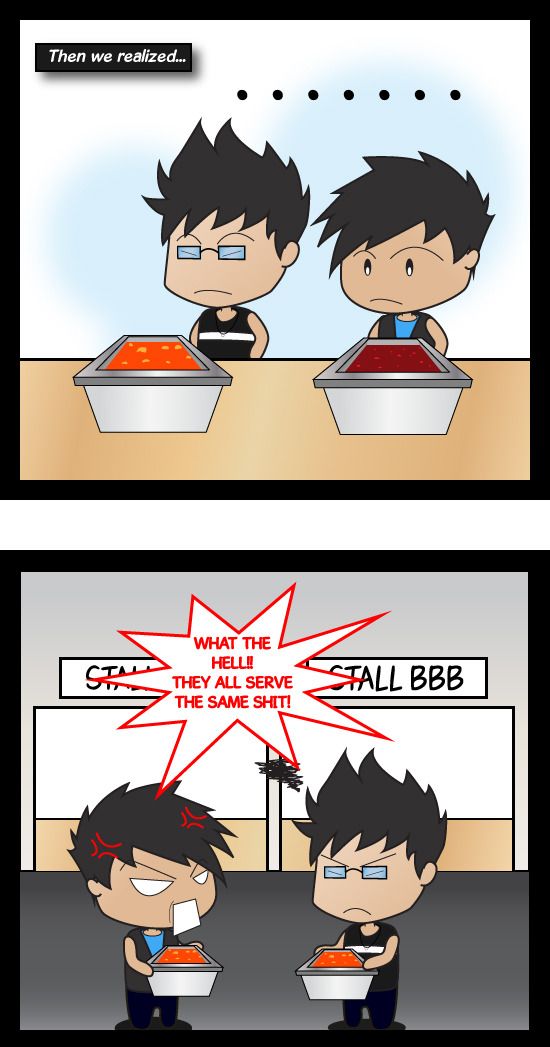 So, yeah. Basically they serve the same sh*t each and everyone of them and every single day. You have Stall 1 cooked fried chicken, Stall 2, 3, 4, 5, etc will cook the same fried chicken with ALMOST IDENTICAL spices and extra oily technique as though they came from the same school of cooking (may be they are). Curry chicken tasted the same at any store and they probably only have less than 5 different dish different among one another. They are lacking absolutely zero creativity in cooking and heck, even I could have come up with more creative cooking with my ability.
And they charges the same price as well. They have to because that's the only deciding factor left for all the students. You can bloody sell the same thing when you charges an extra 50 cents from the store located 5 meters away from you. It doesn't take a genius to know that. Eating there basically made me realize, if I were to open a store purely on cooking instant noodles, I would have given more choices to my consumers. The amount of salt, spiciness, sourness, coldness, oil and many more used are absolutely almost identical that it made you wonder whether they order from the same bloody catering.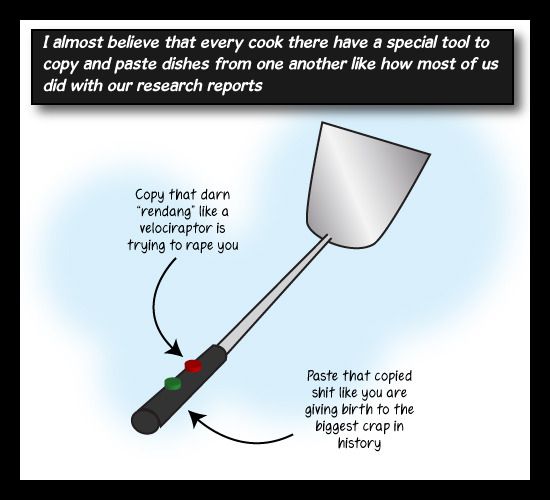 Even if I had a tool like above, I wouldn't copy from a stall next store. Go to a high class hotel or something instead. This absolutely blows my mind as I thought cooks are people with pride on their cookings and wouldn't stand serving the same thing with others. Apparently, I am mistaken. Not all cooks are like that. Dilemma? What dilemma? I wasn't given an option to begin with. What to eat? Let's see what's left stranded cold on the table. There goes my lunch. Lunch is no longer an enjoyable period besides the chicks that are present during lunch period.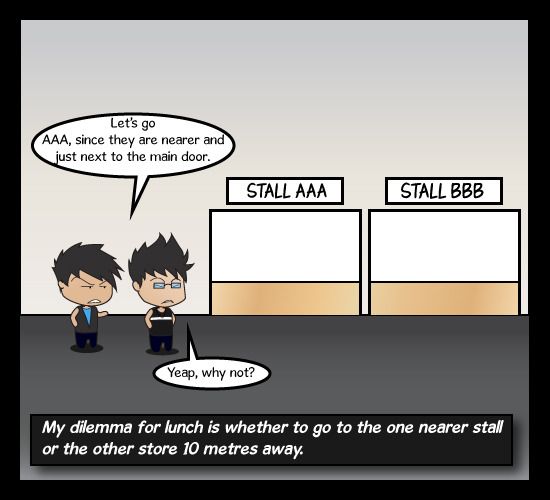 Yeap. That's my only option. Should I go to the one 2 metres away or the one 10 metres away. Basically they are the same shit.
Related posts: