If I were to describe our country, Malaysia's education system, I would actually say it would probably be one of the most confusing system that I encountered. Not to say that I have been through other country's education system to make this statement but the education system is so confusing to me, that even that I'm 25 now, I still don't really get it.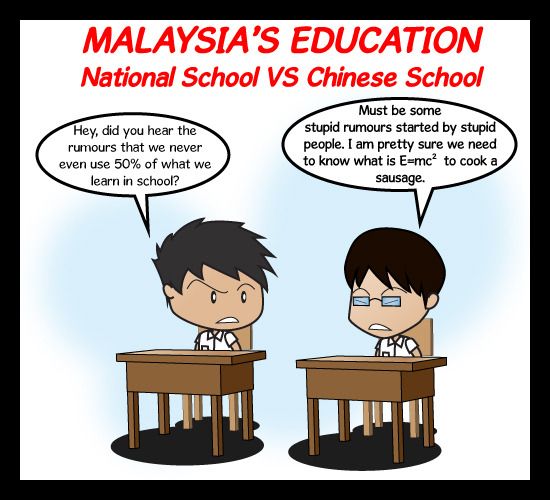 Probably one of the reason is that we live in a multiracial country and there are several types of school for different type of groups. And to think that each of these schools taught the same subject but with totally different methods of education. It is like seeing a writing contest between a right-handed guy and a left-handed guy.


If you studied in Malaysia especially in primary schools, these situation are no longer stranger to you. If you ask me, I do not entirely agree that either system is correct. What Malaysia's education system lack is to a real effective way of educating the students rather than cramming everything inside the brain. Malaysians have this mindset that as long as it is being repeated over and over again, the students will get it. There aren't many teachers around that would actually be patient enough to communicate with the students and try to make them understand the subject rather than memorizing the subject and what's going to come out during the examinations.
I had several teachers and educators that are willing to really help me to understand a subject rather than memorizing the subject. I have great respect for them as not everyone of them are willing to do so. It somehow makes me think if the teachers themselves understand that subject. Let's take an example of my latest swimming classes. Among all the swimming classes, I was told to learn how to float first. The most retarded thing is actually they expect me to copy their pose and be able to float naturally without any reasoning to it. However, my current swimming instructor actually explain to the basic and reason behind certain gestures and so on. That's how a good educator should be.
So rather than lowering the score average to make a false impression or increasing the score average to make students practically killing their brain trying to cope, the system need to be changed. Rather than just asking a student to memorize, students should be taught to understand. As you can see from all the scenarios from above, each and every panel  is just depicting each student felt in their schools. Students don't need to be pampered or tortured. They need to be taught. The system need to be revamped be it in Chinese or National schools. There are so many modern ways in educating the young but none were really implemented and I am not talking about using iPads or Laptops or Pad 1 Malaysia whatsoever.
Related posts: