It's Friday everyone! Mean it's been a week of working for me! And yet I am still experiencing post Chinese New Year syndrome. This is madness. Why can't a full 15 days holiday for Chinese New Year? For those who are not Chinese, because if you are a Chinese and not aware of this then I will think you deserved to be stuffed with mandarin oranges till death through your a** hole. Anyway, Chinese New Year has always been a week of temptation for us Chinese.
This is because there are so many great delicious, fattening and unhealthy snacks waiting to be consumed. Hence, many Chinese did put up a lot of weight during this short duration of Chinese New Year. To most of us, not having to enjoy the food during CNY is equivalent to being sentenced for life. So for my case, after some ridiculous amount of work, this festive season is for me to let loose and do whatever the hell I want with my food except having sex with it. This is how it goes.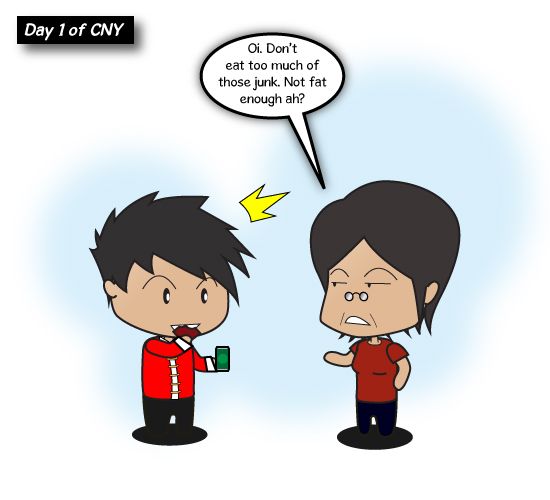 ANNNDDDDD just like that, all my mood is gone. For those who are not Chinese, (if you are a Chinese and not aware of it, you deserved to be raped by a buffalo), the duration of Chinese New Year is 15 days with the last day being Chap Goh Meh where hopeful desperados and probably one or two hot ones throwing mandarin oranges to the river and stuff like that.
With only 4 days to the end of Chinese New Year, Chee Ching from Cheechingy.com broke the news to me that the marathon that we signed up for is in 10 more days. God damn it. I always thought the marathon to be in middle of March or end of March. How am I suppose to train for a 10km marathon after all the stocking up and lazing around routines? This sucks. Chinese New Year sucks. Marathon sucks.
Related posts: