Hey you comic lovers. Wanna meet the inspiring mastermind behind Cheechingy and Bro, Don't Like That La Bro? There are few other people that they are trying to get in as well and I can guarantee it would be a fun gathering to be with. So get ready for Nuffnang's 1st Comic Bloggers Gathering.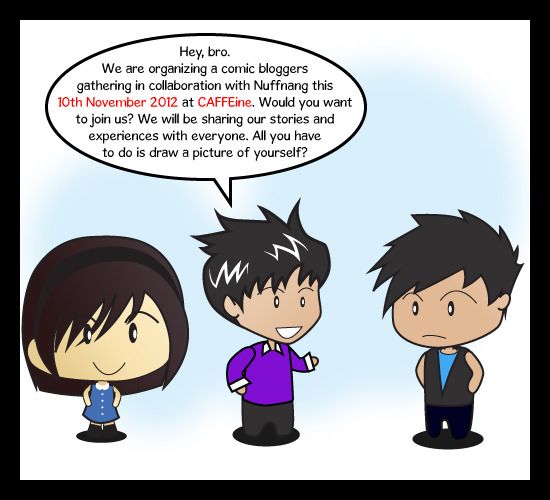 So yeap. Here's the illustration of myself and participating is as easy as this. Well, you can draw stick figures as well. Not to say  it must be purely a professional illustration and not to say mine is also a professional level anyway. So hopefully I will see you guys over there next Saturday. Feel free to ask Ernest and also Chee Ching any questions regarding their success as I can guarantee it would be an eye opener. I know because we often talked about it. See how long a way they had come and who knows that you might be joining their league next? So this is a good opportunity to survey and start out.
Event: Comic Bloggers Gathering
Date: 10 November 2012 (Saturday)
Time: 2.00PM – 5.30pm
Venue: CAFFEine, Setia Walk Puchong (click for map!)
And as for myself, I do look forward as well to what CAFFEine has to offer. Hopefully something good as well. So join this contest, you can just draw a picture and upload to your Facebook. As simple as that. Details of the contest is at HERE.
Related posts: