Facebook had basically become a part of everyone's life. Love it or hate it, you cannot deny the amount of influence it had on our society. Facebook had provide great amusement to my life. Apart from getting to keep in touch with my friends, connect to some awesome bloggers, and also sharing articles and videos one another, it had helped me or us found out the true nature of some people. Here are 5 types of people that I can easily point out on Facebook.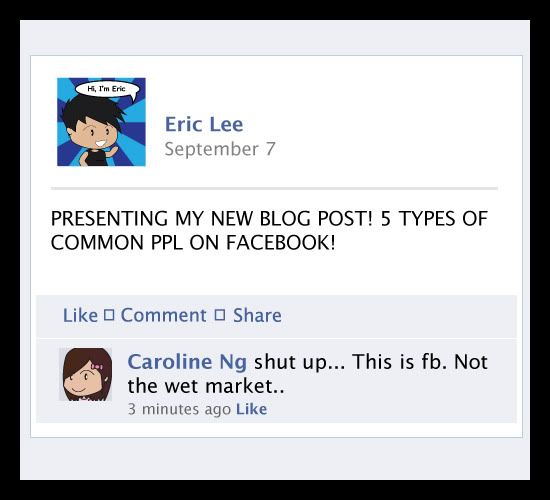 First up, would be the philosopher model. I have no problems with a girl trying to show her intellectual side. I find that as a good quality worth noticing. What I couldn't understand is why they would post it as a description for their sexy photoshoot. Sexy as in I mean lingerie and bikinis. I could understand if the photos portrayed the type of philosophy that you posted. But somehow I couldn't find the connection on most of the photos and descriptions. Some posed sexily in lingerie and put up a description of staying strong in life and so on. Somehow, I couldn't find the connection. It will be like me posing next to my car while declaring my love for bacon underneath the picture's descriptions.
Don't get me wrong. The photos are good. The captions are good. They just don't connect. That or that I am too stupid to realize the connection. If you wanna argue that it is the philosophy for the photo shoot, then obviously your photographer kinda screw it up as in not shooting what you want.
Still, I like the photos.
(hypocrite!)
Sue me for being a hot blooded male then.
I had blogged about this issue here. You can read it. As you can see, that is how I felt about people changing their facebook status as frequent as it is sunny in Malaysia. There are still people doing it but thank God that Facebook had revamped the layout so I wouldn't need to know about people I less interact with that does this.
If you think that I only talked about girls. You are wrong. Guys on Facebook, you need to know what you did wrong. There are creepy ones that would comment on every single pictures or statuses of a hot girl profile in the most stalker-ish way possible. Some of them haven't met before but he commented as though they were best of friends and most of the times, in pure attention of getting to know that girl. I too saw before a situation where a guy would do that to every famous internet people in Malaysia. Both in blogging world and youtube. It is just plain pathetic and creepy. It kinda showed your creepy personality more than it should. Facebook is creepy.
Some guys just wanted to act like they know a lot of hot girls, show off to friends and perhaps even know one of them to be their girlfriends. You can have them as friends but if your Facebook friends have about 90% hot females, I wouldn't know which of it doesn't scream pervert. And to make it worse, they probably don't know any single one of them. Even girls do not have that much female friends on their Facebook.
Lastly, the ones that take Facebook too seriously. Somehow, to them, Facebook is also reality. They would think if it's not worth mentioning in life, it wouldn't be on Facebook. They would tend to take Facebook as a personal reflection of one other person in real life because they are doing it as well. Facebook are not entirely 100% true. I think if I changes my name to The Lord of Awesomelyandperfectlynaturalpieceofhumanshapedawesomeness , they might eventually think that is the name written on my birth certificate or Identity Card.
So that's it for today. Do comment and let me know what type of Facebook people that you had met throughout the years of facebooking! Till then *proceeds to stalk a hot girl on Facebook*.
Related posts: