What is power? For so long, humans have fought and yearned for power. It is a never ending process. The survival of the fittest. The one that would wins you satisfaction. The one that would make you felt truly alive. The one that gets you chicks.
Size has always been associated with power. The bigger you are, the mightier you are. Bullies are often seemed protein overdosed while victims are often fragile, small and powerless. You would not expect a Perodua Kancil to outrun a Ferrari. And you will not see someone putting a cat against a bull in a fight with the cat coming out victorious. Size. The bigger you are, the more power you are packed with. Even smarter people have bigger brains. But, does this concept only applies to pure physical strength?

Tell me that that isn't the case most of the times?  Everyone thought the bigger your camera is, the quality of picture would definitely be better. This is a sad fact that also encouraged some people to get DSLRs despite not knowing much or even have deep interest in learning photography for long term. They just wanted to get a DSLR because the pictures came out nice. Because a DSLR looks more professional with its bulky build, hence people thought it is good.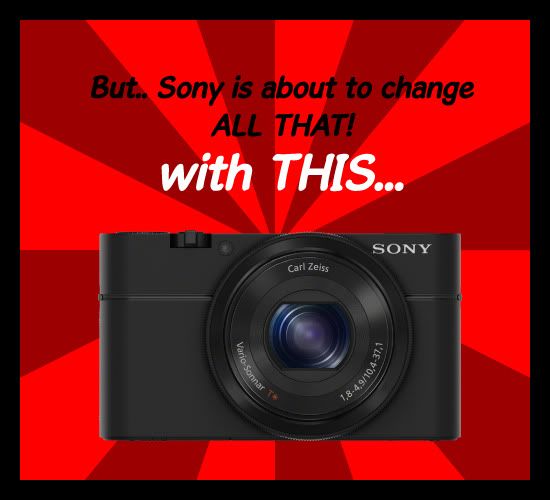 This is the latest Sony Cybershot DSC-RX100 that is bound to revolutionized point and shoot cameras. How would that changes everything?
This RX100 contains the world's first 1.0-type Exmor CMOS sensor with a resolution of 20.2 effective megapixels and the sensor has an area that is about 4 times larger than the 1/2.3-type imager in a normal compact camera. Not only that, it comes with F1.8 Carl Zeiss Vario-Sonnar T* 3.6x optical zoom lens. A f1.8 lens is definitely an insane feature to have on a compact camera. he wide aperture would compliment the huge sensor to produce high quality pictures which I will show you later on. In layman's term, this is a monstrous feature that would enables you to capture crisp clear, detailed and excellent pictures. The sensor is huge enough to go along with its bright lens to give a top quality picture comparable to a DSLR's.
Besides that, this camera can boost its ISO up to 25600 and this is even better than most DSLR out there in the market. I had my hands on the camera and pushed the ISO to 6400 and I shall include it below.
A Full HD video recording alongside with the flexibility in controlling the settings for it. You not only have a camera, you have a darn good camcorder as well.
Besides that, this baby is packed with tonnes of in-camera effects that would bring out the artistic sense in you. With features like Toy Camera, Partial Colour, Pop Colour, HDR Painting, Miniature, Illustration, Watercolour etc., it's like having a few cameras with you at the same time.
I know I had been babbling for some time about it being pocket size, so how small it is actually? Well, it is only measured at 101.6mm (Width) x 58.1mm (Height) x 35.9mm (Depth). It definitely felt smaller than some smartphones out there which made it very pocketable and people would not even suspect that you are carrying a high level camera with you at that time. So what do I feel about this camera? Look at the picture below.
Yes, it is that good. I had never imagine it to pack so much features in such a small size camera and I'm definitely amazed.
I was previously invited over to the launch of this camera and unfortunately, due to limited units and how awesome it is in occupying everyone's interest, I couldn't get my chance to test it out much. But here is some of the key specs of the Sony Cybershot RX100.
1.0-type (13.2 x 8.8mm) approximately 20.2 effective megapixel Exmor™ CMOS sensor
F1.8 Carl Zeiss Vario-Sonnar T* 3.6x optical zoom lens
Low-noise handheld shots in low light with high sensitivity up to ISO 25600
Intuitive operation with Control Ring
Shoot Full HD movies with extremely low noise and full creative control
Auto Portrait Framing, Creative Style and Picture Effect modes
Camera is priced at RM2499
This did not stop me though. I decided to head to a Sony Centre to feel its awesome pocket sized power. And below are several selected shots that I had chosen that best describe what I feel that truly represents "Power In Your Pocket".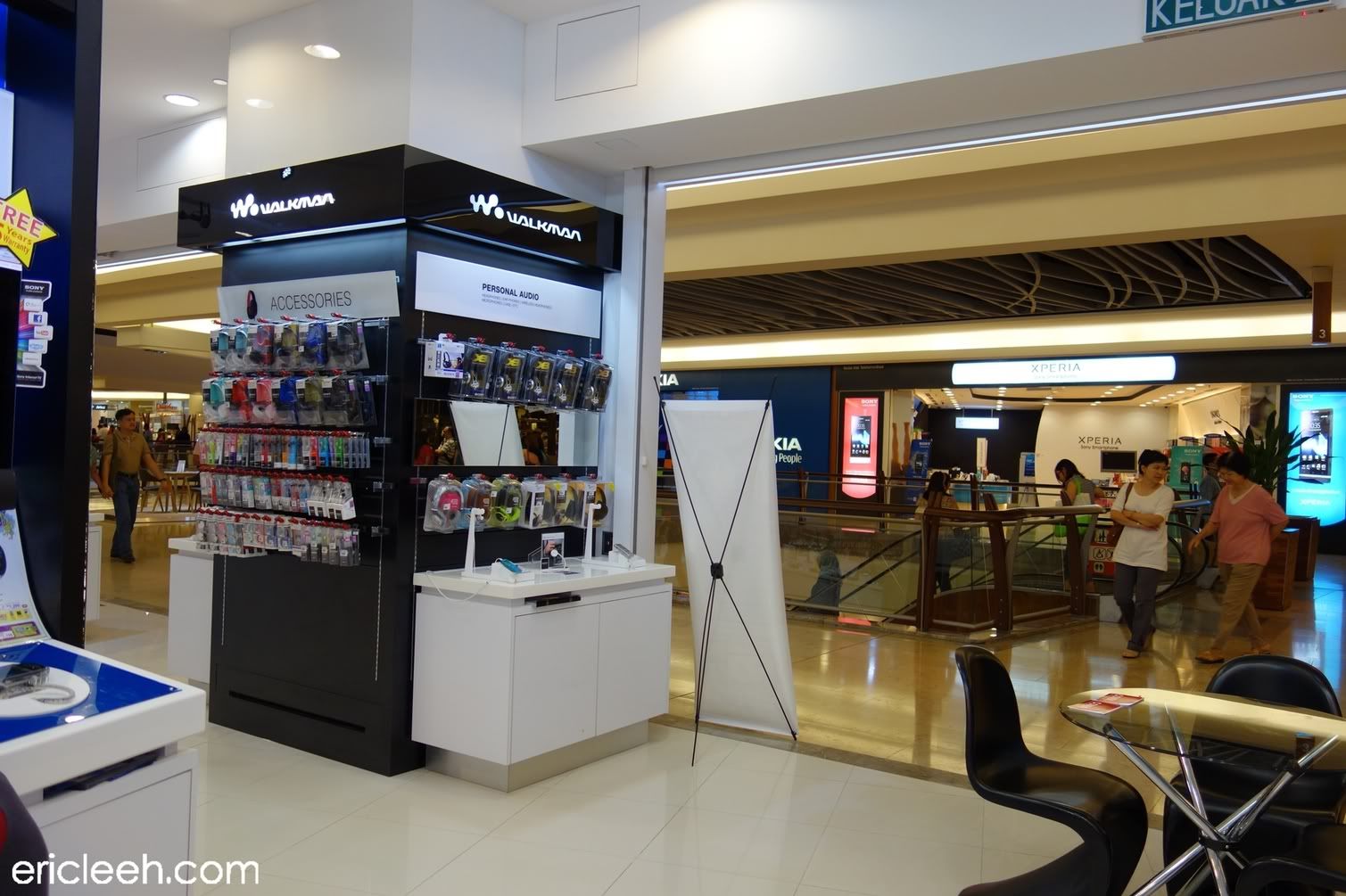 One thing I'm impressed with is the amount of details and the vibrant colors that this camera could capture. All these images are purely unedited images from the camera and it is quite comparable to a DSLR's quality. In fact, it is actually much better than a lot of DSLRs out there. I could name a few but I wouldn't as I do not want to spoil any brands now. You can click on the picture to see it in full size. As you can see, the colors are extremely good, one would not even expect such quality from a camera as small as that.
This picture was taken with the ISO 6400 and I am amazed by the amount of noise reduced here. Normally, a point and shoot camera would definitely be way too noisy to be usable or be presentable. The quality is extremely good considered it is not a DSLR but a compact camera. I wouldn't have any problem in boosting its ISO that high in low light situation. The noise reduction system in this camera is superb.
Another feature that I love in this Sony Cybershot RX100 is its panorama feature. As you can see from the above picture. It is like a perfect syncing and patching panoramic picture. This is because instead one multiple snaps and stitching of multiple pictures, you actually snap once and move your camera from left to right in one go and the auto stabilization in the camera helped to make it as perfect as possible. I rarely have anything nice to say about one panoramic feature in any device but this is simply outstanding.
One of the advantage of having a pocket size camera is  the flexibility in controlling it. Holding it however I want is definitely a plus. Sometimes, having a DSLR is too bulky and it makes taking photos from certain angle quite a challenge. Not going to demonstrate how but I think most DSLR users would agree with me.
Good camera will get you the chicks. Enough said. This is because so many girls would like their photo to be taken beautifully. Their demand is just too high. If you hold a compact size camera, chicks normally would rather go to those with DSLRs so at least they will look good with their pictures taken. A true experience that I encounter before that usually girls will prioritize those holding DSLRs than those holding a point and shoot. With this Sony Cybershot RX100, they would know my pictures would be good and even much better than some DSLRs. This gives me an advantage. I HAVE THE POWER TO GET GIRLS TO TAKE PICTURE! THAT IS POWER!! ALL IN YOUR POCKET SIZE CAMERA! No, I don't really care how desperate I sound but that is a fact.
Ok. Since I don't own one Sony Cybershot RX100 yet, I can't get the girls so I would take a picture of this instead. But soon, my friend. SOON!
So in order to win this, I will need some photos or images regarding the theme "Power in Your Pocket". I am not sure if the above pictures are enough, but I will include a few more just purely for entertainment.
What? Not good enough? Ok ok. Here's another.
Well, that's it for today. Hope you guys enjoy the post as much as I enjoy doing it. In the nutshell, i felt this Sony Cybershot RX100 is one heck of a good compact camera. If you have the budget and looking for something good and compact especially for your travelling needs, look no further and grab this. The quality will definitely amaze you. What? It does not please you? Be careful for what you are about to say or you will end up as the following picture.
Related posts: