Usually when people talk about best island or beach here in Malaysia, it is always expected to be either Pulau Redang or Pulau Langkawi. When I told people that I'm going to Pulau Perhentian for a holiday trip with my family, most people would look at me in confusion and ask "Where is that? Never hear before." Of course some of them had heard it before but they just don't know what and how is that place just like I do. So here, I have the opportunity to go to Pulau Perhentian and I decided to share with you guys.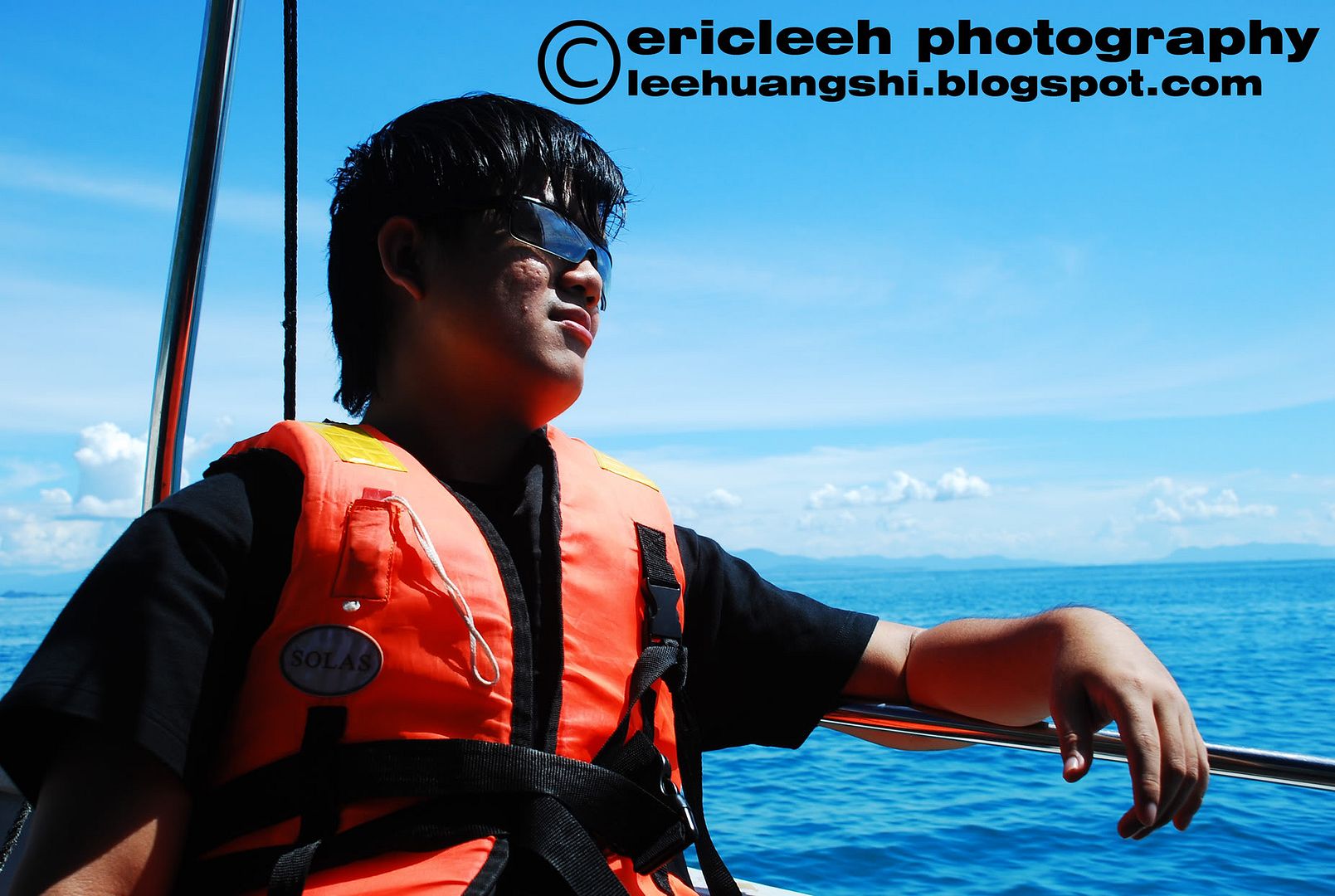 On the boat trip to Pulau Perhentian Besar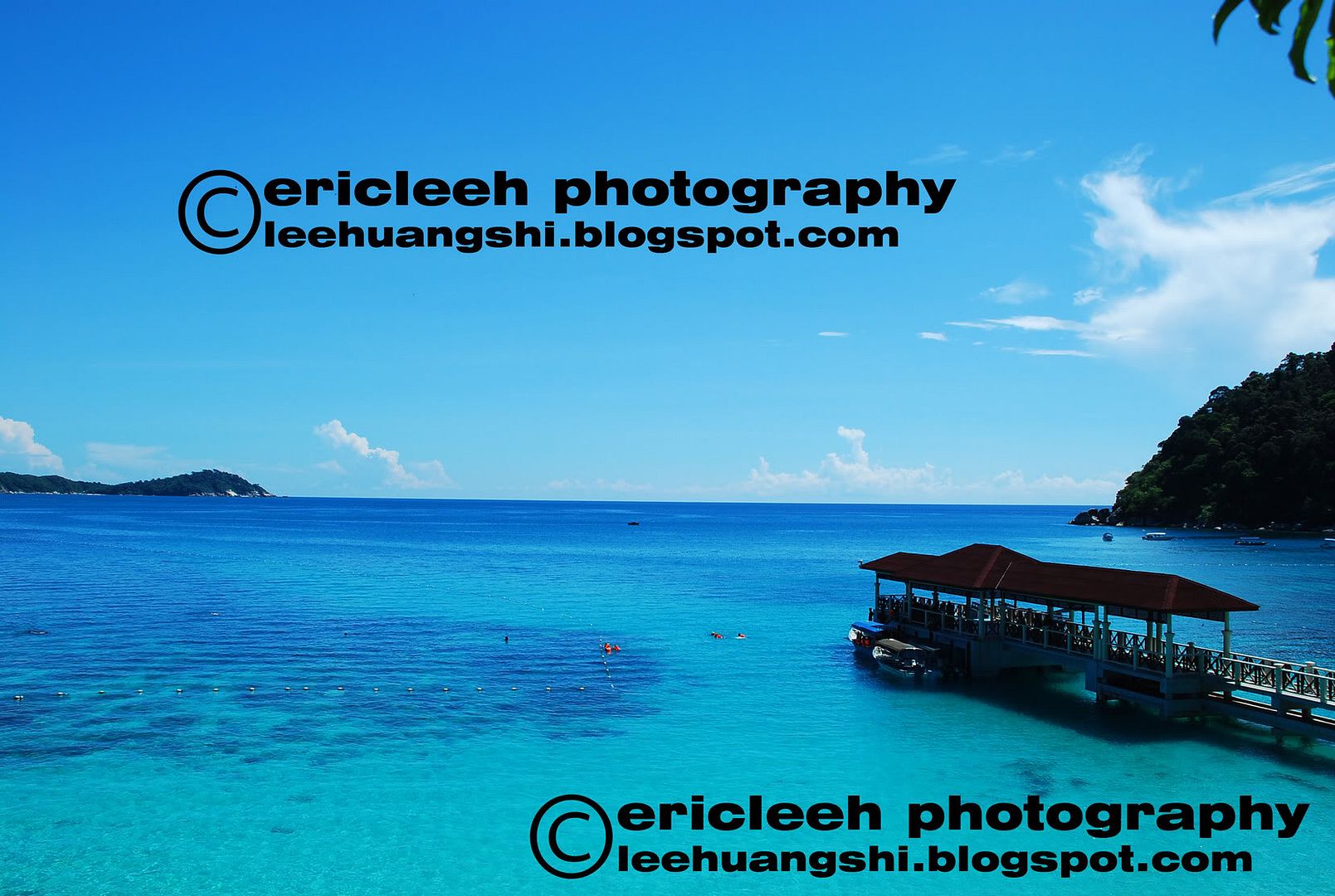 Hello Pulau Perhentian!!
Day 1
The trip started with me feeling extremely sleepy. Having slept at 3am and then waking up at 5 something in the morning. It is definitely not a pleasant feeling. The most ridiculous thing is the flight is at 10.30am and I only lived 30 minutes away from KLIA. But there certain reasons with why I had to get my ass up before the sun even shines. A bumpy van ride followed right after the flight and we stop by for keropok lekor break. The funniest during this whole period is people are actually discussing whether to buy watermelons and bring them over to Pulau Perhentian. I don't know what's the whole fuss about as I personally think it is a bitch to carry such heavy things around. Of coz it wouldn't be a problem for them as the young males of the family are going to do the carrying job. However, ladyluck smiles upon our backbones and the older generation decided to not get any.
Clear blue sky, crystal clear water, white fine and soft sand. This is paradise
As soon as my boat arrives in Pulau Perhentian, the beauty of the sea immediately captivate my heart. We actually have CRYSTAL CLEAR waters over here in Malaysia. After trips to Pulau Pangkor and Desaru beach, Pulau Perhentian definitely make me convinced that the two places I've been to are public toilets. The water is just so clear, I'm tempted to drink it and wonder if it's really salty.
My lodging area
The resort
As I step on the beach of Pulau Perhentian Resort, I believed I just landed on one of God's greatest creation. The fine white sand makes your feel like you are stepping on grass instead. Hell, even grass are much rougher on my feet than the sand there. There are a lot of corals and fishes and the water is only waist deep during low tide that evening. But being a swimming retard and the corals are exceptionally painful to step on, I threw off the idea of going to see some nice fishes and corals for that evening since all snorkeling equipments are rented out for the day. So it's only taking photos, playing ball by the beach and submerge myself in the clear blue sea for a moment.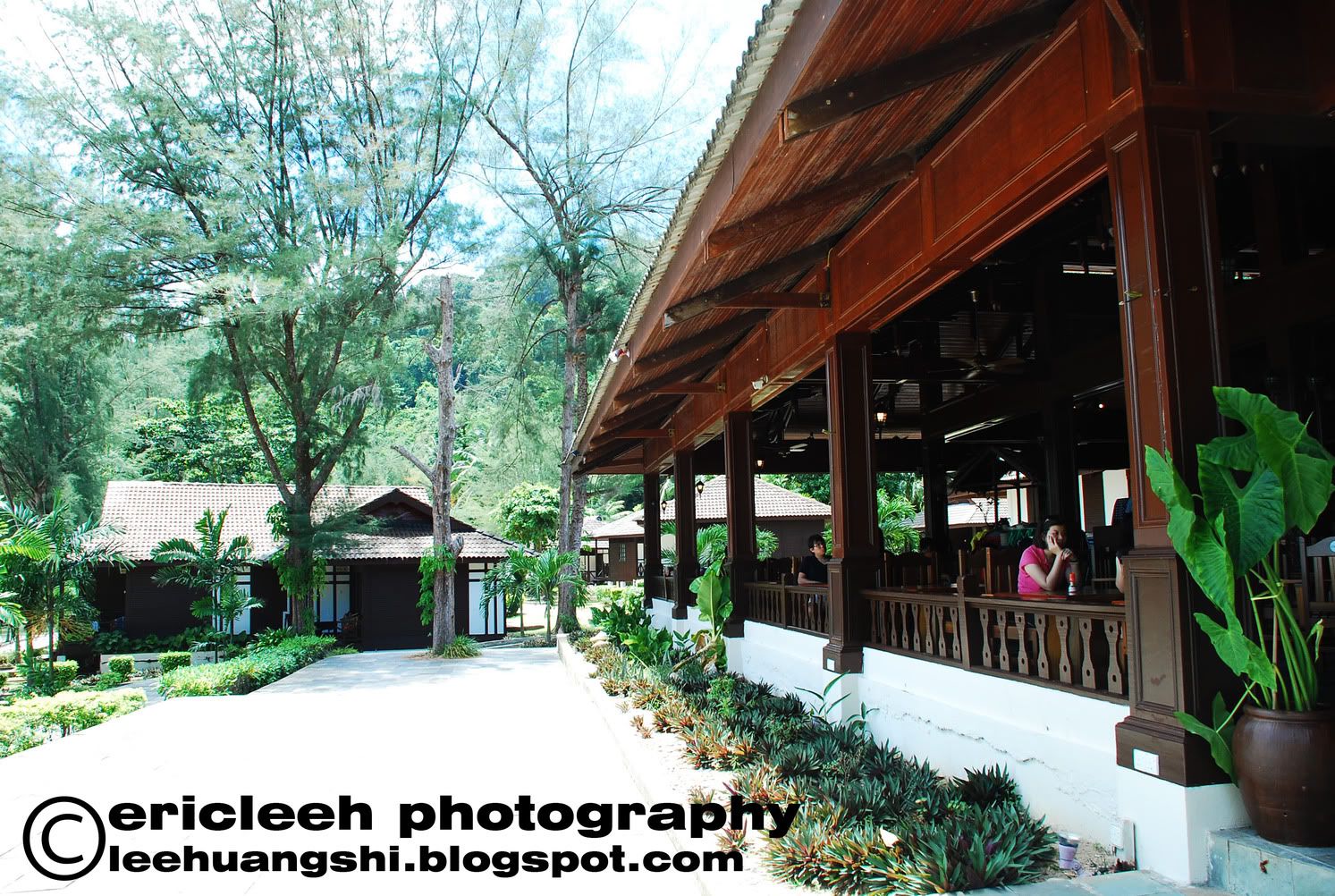 The cafeteria
Day 2
What a place to wake up in the morning. The white soft sand and the crystal clear sea and to top it off, a clear blue sky. What a paradise!!! Unless of course, you woke up with rashes on your hand and the nearest clinic is a 30 minutes boat ride from the place. That is exactly what happens to me. I did not have a single clue why the hell I have rashes and all I can do is just pray it won't get any worse by the end of the day. What a great way to spoil my morning but I will never let that hinder my trip on this paradise.
So I took some medication which my sister brought which I am not even sure if it's actually appropriate. Why? Because it is antibiotics for stomach upset. Probably that's why my rashes didn't get to my stomach region. Then I'm off for breakfast and then get my ass to take some photos of the place before heading to rent snorkeling equipments. Not to mention me, my sister and my aunt camwhoring all the way. And guess who had to bring all 8 life jackets back to the hotel? 3 woman and me the only man at that time.
Let me clarify first, I do not know how to bloody swim. Heck, I don't even know how to float and the only pathetic thing I know how to do is straightened out your arms and body and paddle with your legs. Yeah, the noob style for small kids. But does that hinder me from snorkeling? Hell no. The crystal clear sea is tempting and seducing me to go. What could go wrong? A snorkel that enables me to breathe while facing underwater and a life jacket that enables me to float effortlessly. So i donned on my gears and get my ass out to the open sea.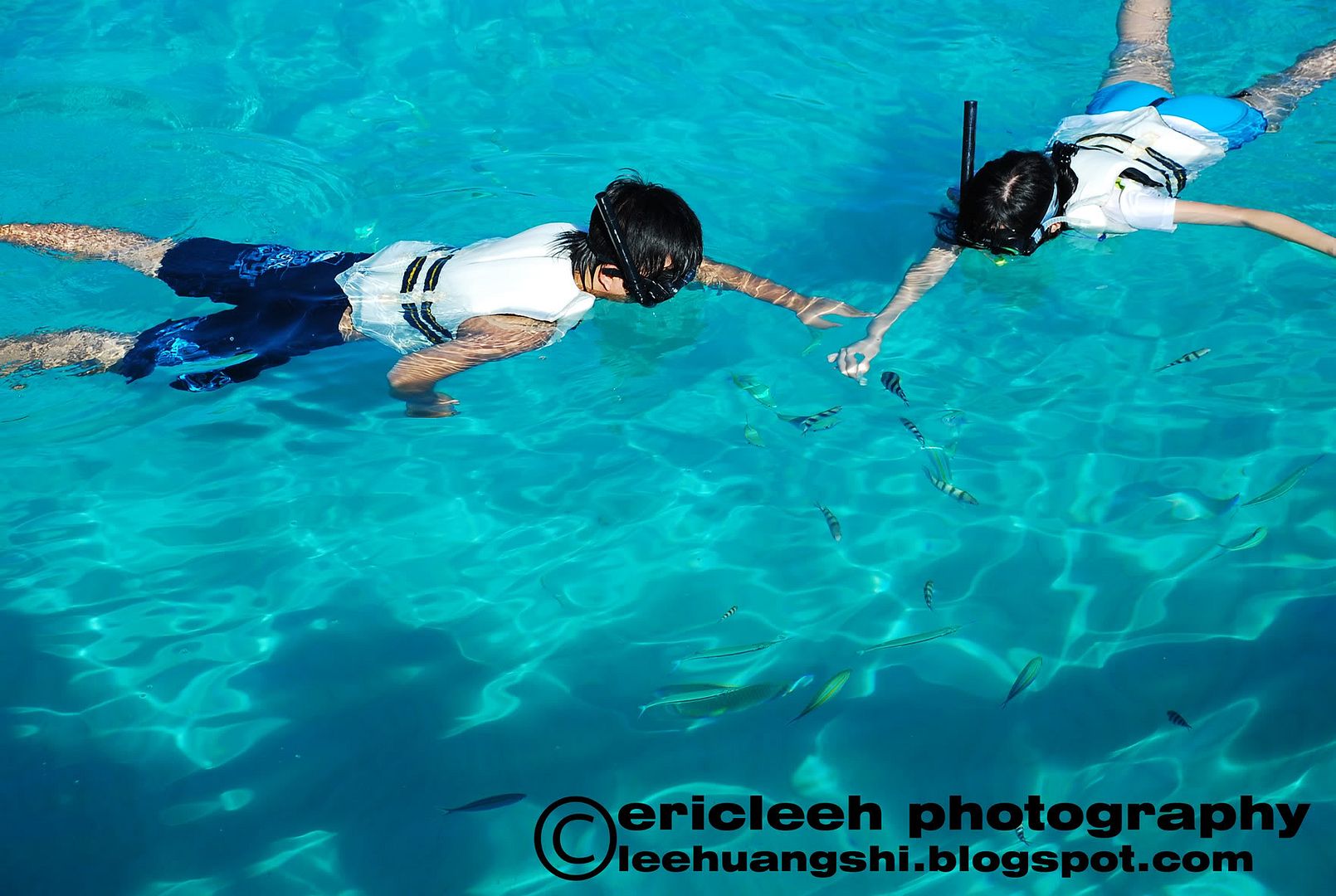 That's me and my sister
The moment submerging my body within the crystal clear sea, I felt extremely relaxed. Being able to float and swim around is something I never could achieve. Moreover, submerging half my head into the water to observe the underwater while still being able to breathe. Heavenly. There are a lot of lively fishes and beautiful corals around for my viewing pleasure.
Thank God for all this. I love snorkeling.
However, due to my noobish handling of the goggles, sea water seem to find a way to enter my goggle. To make it worse, it's around my nose region. Naturally, I should change from lying flat against the water and bring my head up to fix my goggle. And then the real shit begin. I do not know how the fuck to straightened my body vertically. Fuck. I'm totally stuck at lying flat with face downwards against the water. There are some water in my nose region within the goggle and no matter how many times I try blowing them out of the goggle, some water managed to sneak in.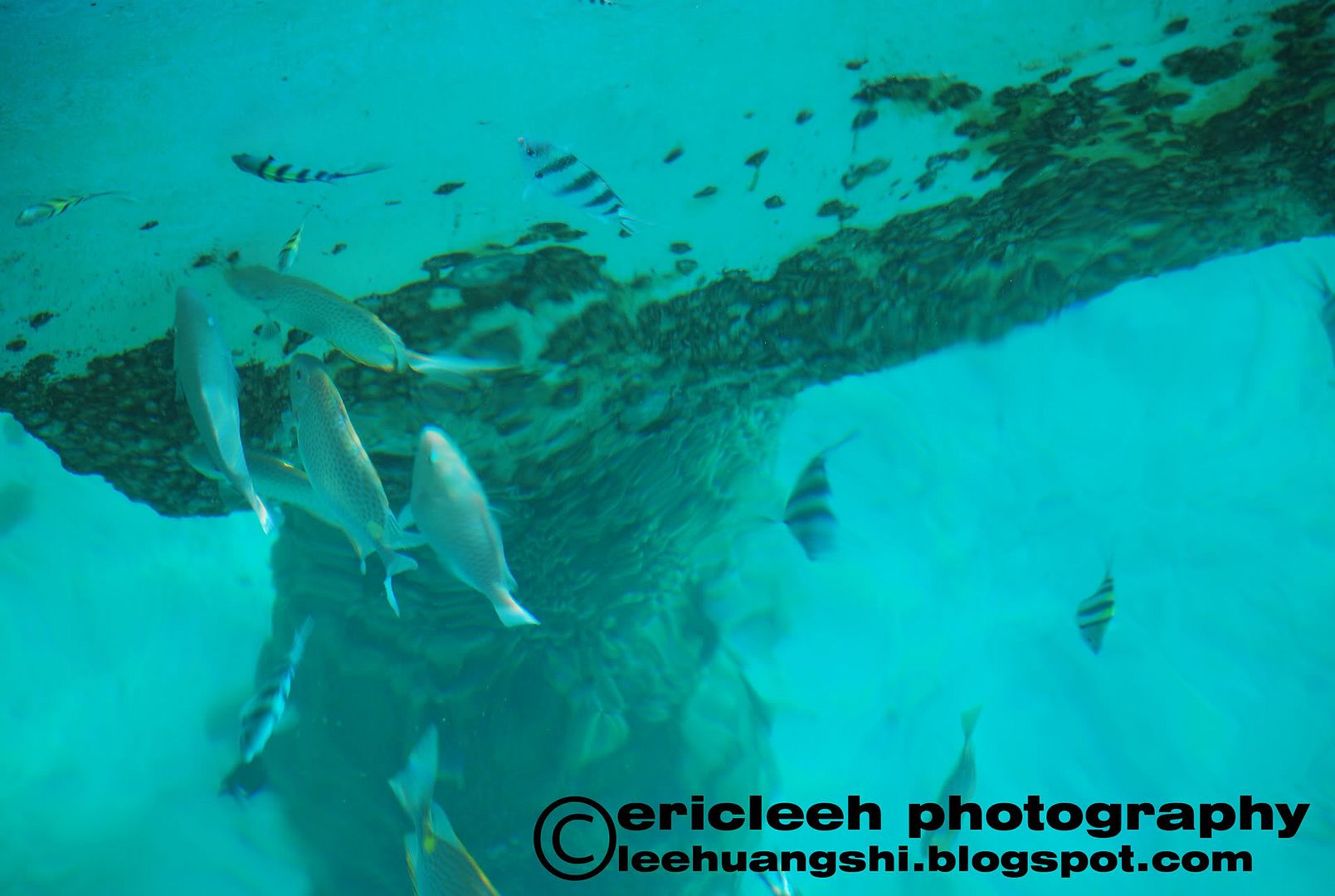 How clear is the water? This is taken from the jetty and not underwater.
So being helpless for the moment as my cousin and sister are quite a distant from me, I try to struggle to get my heads up for some fresh air but given my natural talent in swimming, I failed miserable of course. I thought the only smart and possible idea is to continue swimming like that and snort the remaining sea water up my nose. Worst fucking idea EVER. Snorting the sea water makes me feel slightly dizzy and the feeling of salty sea water between your nose and throat region, is plain fucking unbearable. I manage to straightened my body by pulling my victim(my sister) to positioned myself. Then not long after that, I felt real dizzy and for God knows what reason, I even nauseate. So, I had to head back to the beach to get some rest.
Fuck. I hate snorkeling. Whoever came out with this idea must be a retard who drinks whale semen for breakfast.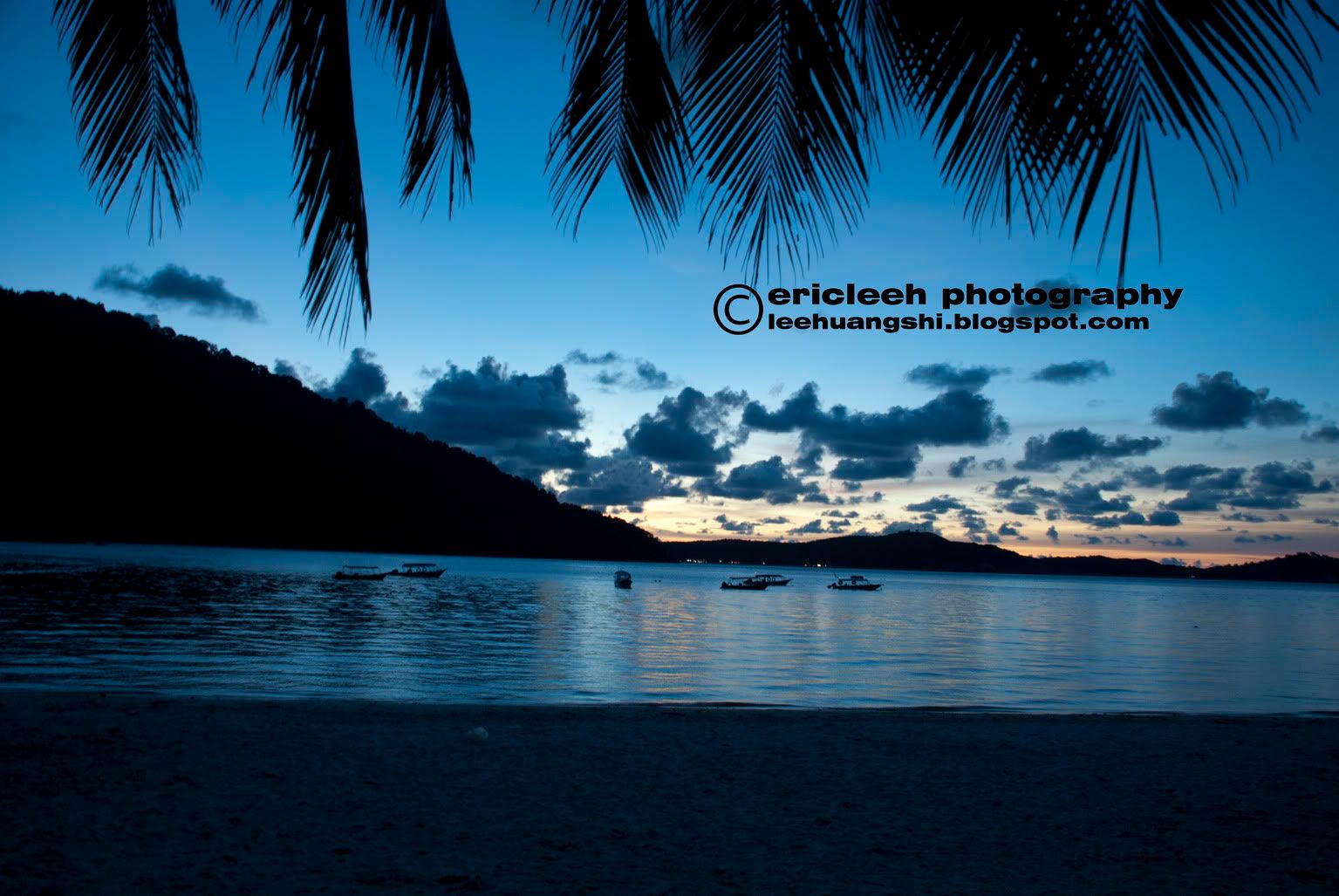 Sunset shot
Then was suppose to go to several snorkeling trip around the island and also for turtle and shark watching. But having such strings of bad luck since the morning, I am already a pussy and I decline the trip. I decided sleeping in my room for the rest of the afternoon before taking some photographs would be the better idea. Eventually the rashes got worse in the afternoon and fortunately, it is only on my hands.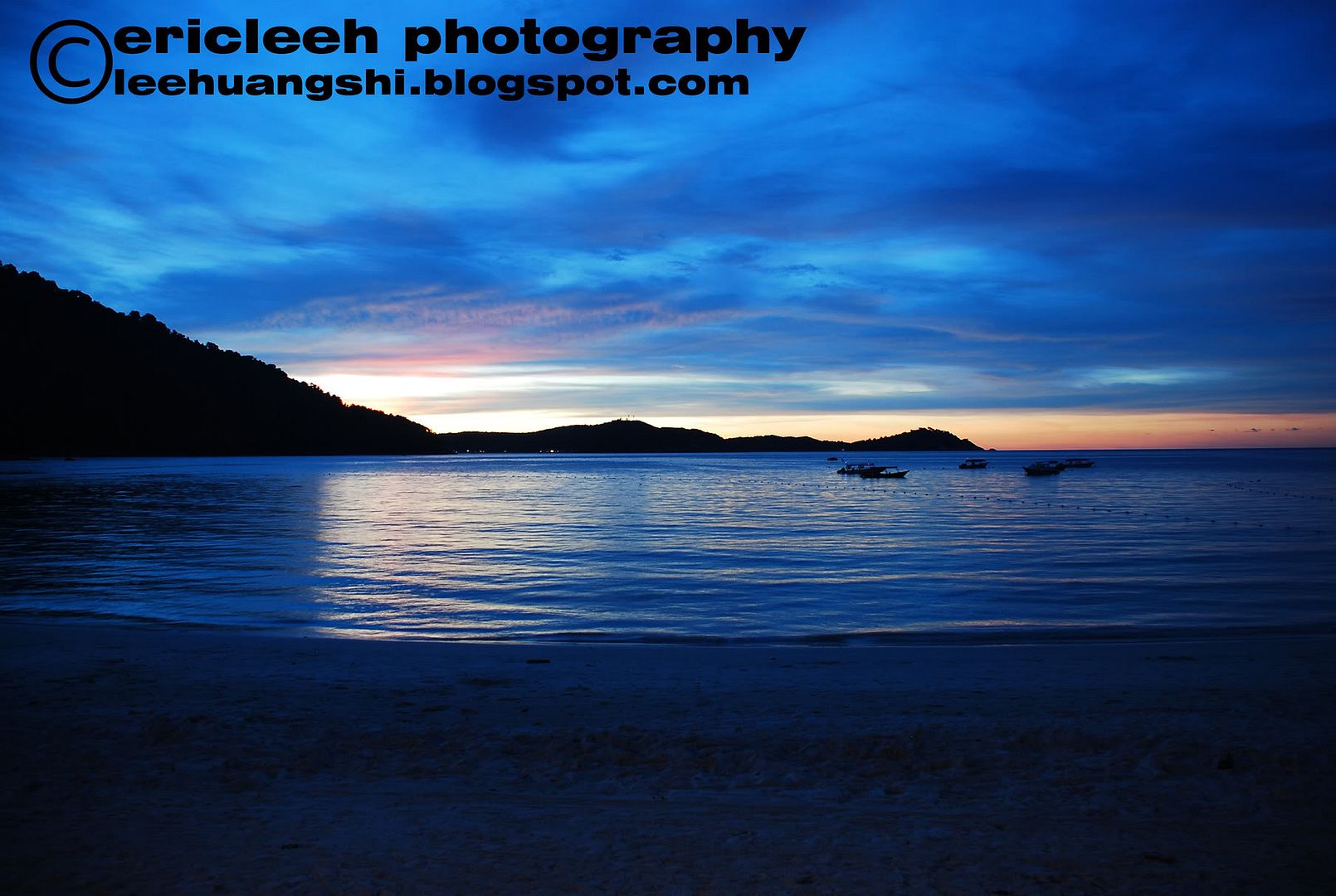 Another sunset shot
However, photography session of the whole beach and sea, got me tempted to snorkel again. But since it's already late, I settle for the next day.
Day 3
The last and final day of this trip. As decided the day before, I get my balls out and went on to snorkel again. Best decision EVER.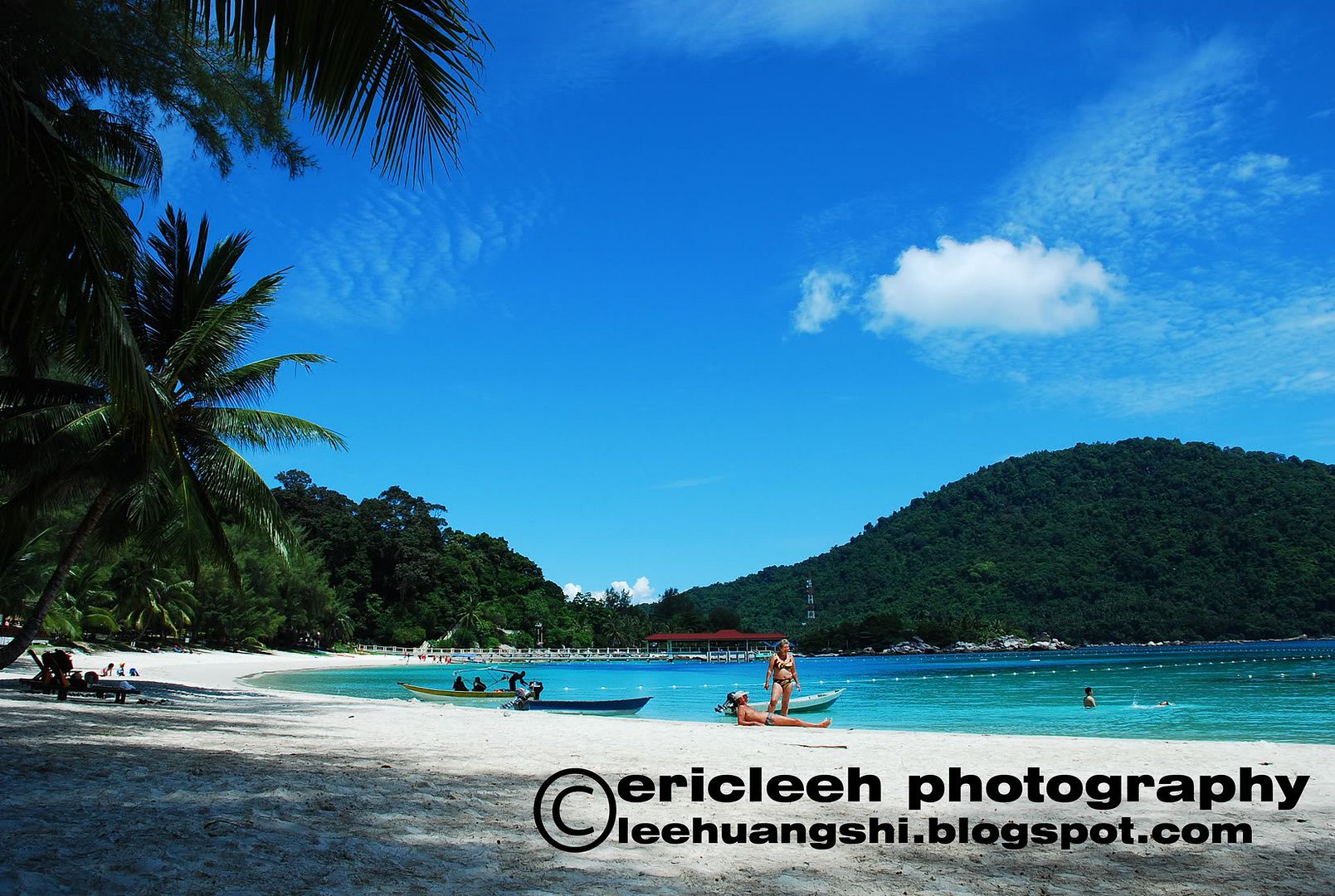 Hard to believe that this is Malaysia
Since we haven't snorkel at this particular spot before, we are surprised with the amount of fishes there. We fed them with slices of bread stolen from the cafeteria and took some photos with my aunt's camera that can take pictures underwater. Again, my inability to swim hinders me to take photos underwater if my feet never touches the bottom. So had to proceed to shallow ares for picture taking but the jacket had kept me floating so much, I cannot even submerge in the water. So I had to remove it to satisfy the camwhore within myself.
The one who can't swim but is the best camwhore underwater
As I fell in love with snorkeling again, I had to leave this beautiful paradise. I'm not sure how long its beauty will last but I highly recommend everyone to go there at least once. Especially if you are a beach and water lover. I give it out a 11/10 experience. This is the only beach I been to that can satisfy my 4 beauty elements of the beach which are:
1. White soft sand
2. Crystal clear blue sea
3. Clear blue sky with nice weather
4. Bikini babes. (although the pretty ones are flat chested while the big bust babes are not that pretty, but I still think the pretty ones are sufficient for now)
Despite the clear sea, the tap waiter is actually brown in color. Makes me wanna bathe in the open sea instead. This is the toilet bowl. XD
P/S: No pictures of pretty babes as it is not my camera and like I said, IT IS A FAMILY TRIP.
Related posts: