Recently some people had been blogging about qualities that men should have or qualities that women should have. If they don't blog about it, they talk about it. This come to points of my post. Firstly, I was often asked what qualities in women that I am looking for back then when I was still single. I wonder why no one asks when I am in a relationship right now. But this is exactly a scenario that happened during one occasion.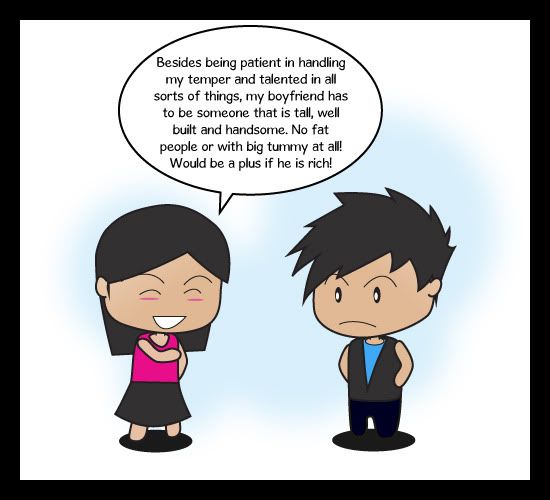 Personally, I wouldn't care if my wife or girlfriend have any of those "qualities". But most of the time is I would come up with the most most male chauvinist reply as possible if I ever heard a girl telling me that she need a tall, handsome and whatever those qualities are. Ironically and unsurprisingly, most girls would be turned off by my reply while only those friends who knew me well, knew I was just being sarcastic and laugh or play along. You see, most girls wanted a tall and handsome guy with toned body so why would a guy be labeled a pervert when he asks for a big boobed girlfriend or one with a nice butt? Aren't those physical appearance appeals as well? It is basically the same.
So what if you found and love a guy who is all that? But at the same time if he wants a big boobs girlfriend and if you don't have those big melons that would keep him interested? Would you be at that very moment give up because you don't have that or you try to win his heart? Would you be at that moment say "Those labels does not matter at all."?
If we wanted to do labels, it had to be mutual.But finding someone with 100% matching labels of one another is like finding a needle in the ocean. I wouldn't say haystack because one can easily sort a needle out from there with the almighty magnet. I wouldn't say it is impossible and I wouldn't say one must lower his or her standard in choosing. It doesn't matter to me. But I think the two qualities that both men and women should have in a relationship as a husband or as a wife, is love for one another and also commitment.


So basically, that's what I wanted to talk about. Qualities women should have? Commitment and love. Qualities men should have? Commitment and love. When one started to commit to one another, they would try to make the relationship work and help out. That's how humans live. As the saying goes, "love conquers all". I would say "Mutual love conquers all".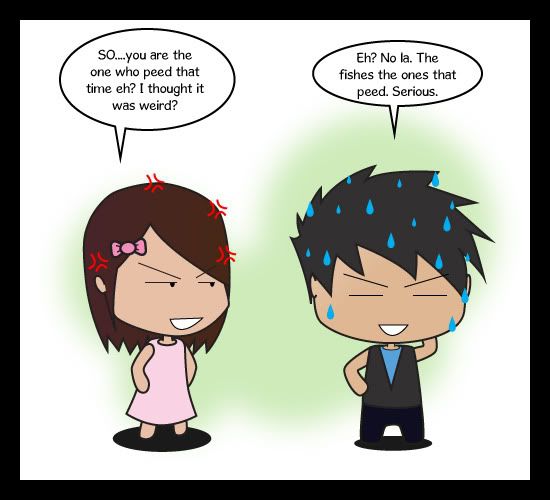 Just in case you are wondering, the snorkeling situation is real and yes I know nuts about swimming. What? Peed? What pee?
Related posts: