I am not sure why, whenever anyone suggest me to keep fit, it has to be gym. Gym. Why are there no other options I wonder? Gyms to me, are places where you pay to torture yourself. I have nothing against gyms or people that love going to gyms but that is just not the thing for me. It is boring to me. Let's just say, I dislike doing any sports that doesn't require much thinking. I easily get distracted and bored. In other sports like basketball, football or even bowling, you have to think before making a move. That's what fun about sports to me. But gym, besides worrying about the attention I will be getting (mostly negative ones I suppose), I just don't think it would keep me entertained long enough to have it work out for me.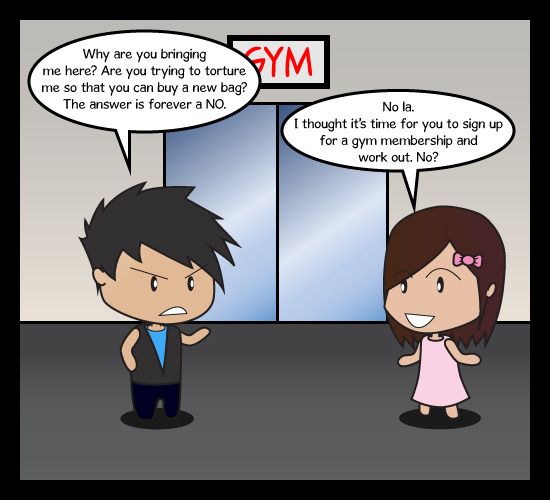 I officially crowned myself as the champion of excuses. Comment below if you think you can top me.

Ok. There are some reasons for me to gym after all. Needless to say, I barely survived that day.
Personally I am not a fan of hitting the gyms. No offense to anyone especially when I have a lot of awesome friends and also my dad who frequents the gym. I felt that going to the gym would be a waste of money on me. I will definitely get bored even the routine weekly jog easily bores me out.
So tell me, what is your reason if you go to gym? To build a better body? To check out hot guys or hot girls or fat guys or fat girls or whatever?
Surprisingly, swimming entertains me a lot. Probably because at the moment there are still a lot of things for me to learn. I will blog about my swimming lessons and I definitely highly recommend this teacher.
Related posts: