Hey, it's Monday and the eve of Christmas! How's your gift shopping everyone? I'm planning to buy my Christmas gift for office's gift exchange on the 31st. Yeap. The 31st. That's how busy we are. But anyway, if you are looking for a comic, please do wait until Wednesday for the comic since I had prepared this special post for you guys. Sorry. Only for the non-Muslim though. But anyway, if you are looking for a good place to dine in for Christmas or any other day. Feel free to check out this place. Ante at Publika.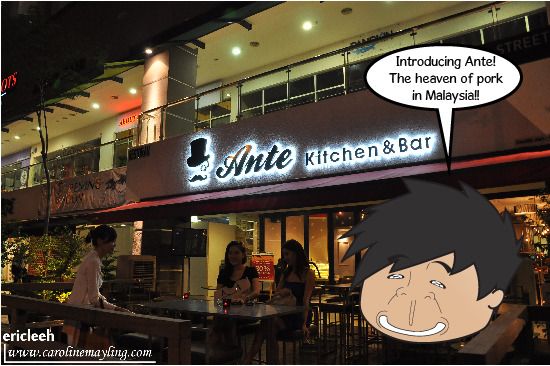 That's right. Pork is the way to go. That's why I could never convert into a Muslim no matter what it is. My love for pork is just far too great. Ante is located at Publika at Solaris Dutamas which serves a greaty variety of pork dishes and several Western cuisine. It also serves a wide range of alcoholic beverages since it is a bar anyway.
The setting and the environment of the place is simply cozy and warm. If I were to chill or hang out with my friends, it will definitely be an environment like this. The friendly staff are always ready to serve and answer to your every inquiries and this is definitely a plus point. I hope they will maintain their level of service that they had shown us the other day or otherwise, it wouldn't be much of a place that I will place it first in my mind.
The two drinks that I get to try is the Passion Fruit Mojito and also Rosie's Lychee Fizz. The drinks are quite refreshing especially the Passion Fruit Mojito. It has a strong taste of passion fruit in it which means they were generous with the ingredients used here. As for my lychee fizz, I found the 7-Up or Sprite taste, I can't differentiate both, had overpowered the taste of lychee. The taste is still there and present but it was slightly overwhelmed.
The Tomasco Soup, like namewise, it is a blend of tomato and tabasco sauce which is pretty interesting to me as it is my first time seeing such combination to be served in form of soup. And as interesting as its concept, the taste is pretty interesting as well. Besides being sourish, it has a hint of spiciness with the soup while being extremely rich in texture and creamy. If you are wondering how that sounds, imagine a bowl of mushroom soup, that tasted a bit like Tom Yam soup although the spiciness were mild enough to be acceptable for non-spicy enthusiast. Ante definitely can whoop up a fine bowl of soup here.
The chunky mushroom soup deserved the 3 Holy Words for Soups which are creamy, rich and thick. The creaminess is done right with the right blend of herbs and mushrooms within. For mushroom soup lovers, you guys would definitely go crazy over this soup. My complain for this bowl of heavenly soup is that the portion is not enough. Although, it is perfect to start off with a whole line of delicious awaiting next.
When I saw the words Cod and Crab, I am immediately sold. I am a sucker for cod fish and also crab meat. Unfortunately, it wasn't really up to my liking while people definitely enjoy this dish more than I do. Don't get me wrong, it has a generous amount of fish and crab meat within. The mash potato blended well with the cheese but not so much with the meat in my opinion. It was a bit tad too dry for my liking. Although probably the main reason is that I had this dish when it is already lukewarm and not piping hot. No choice since there are so many food pictures to be taken. But it is still a very interesting combination of ingredients.
Almost anything. I mean ALMOST ANYTHING can go nothing wrong with Bacon. BACON FOR GOODNESS SAKE! HOW CAN IT GO WRONG? AND YES, THIS DISH DIDN'T GO WRONG! I am happy. I was never much of a fan of salad dishes but Ante can definitely whoop up salads that could please a meat lover like me. The minced bacon, lettuce, Parmesan cheese, eggs, and croutons are simply heavenly to be enjoyed. Like I said. It can never go wrong with bacon.
The crispy pork trotter salad is an interesting salad as well. As everyone though salads were suppose  to dominated by greens, this salad provides a twist with the generous amount of pork trotter thrown inside. The crispy skin of the trotter were done exceptionally well with some tender meat pieces attached to it. The ratio of gelatin, meat and crispy skin is perfect and tossed in with the salad, It is sinfully delicious but yet sound so healthy as the same time. My mind and taste bud had rarely gone this confuse before. I highly recommend this salad if you are a pork lover and would love to have same salad before a meal.
Thinly sliced smoked duck meat, sun dried tomato, almond flakes and also some lollo lettuce is another salad to look out for. I still prefer the Crispy Pork Trotter salad over this salad but it offers a good headache to choose from. The duck meat were lean and smoked just right. I know how good is a smoked dish since my dad is good at those dishes and this salad is definitely a must order for duck lover. For me, I'm pork over duck.
Bacon again! It can NEVER go wrong in this restaurant. The thick and creamy carbonara gravy along with the crispy bacon slices and cheese is definitely something to die for. Carbonara is a difficult dish to please me with as not much restaurant could come up with a fine plate that could have me rave about it. Ante had done this well eventually. The thick and rich gravy were garnished with some chilli flakes and onions. The taste is very overwhelming and it is served with crispy bacon strips and also the spaghetti which are done al dente. The strong cheese taste is definitely very memorable. Only downside is that I don't feel there are enough bacon with it.
Huge a** prawns over this Seafood Marinara provide a lot of hint on how awesome this dish was. The sourish and sweet marinara gravy was cooked to perfection. I had a bite of the prawn and it was really fresh as well.The giant mussels and prawns definitely dwarfed the spaghetti so much that it look a lot less than its already huge portion of serving.
A pork steak grilled to perfection on the outside while the meat remains juicy and tender on the inside. The well balanced fat and meat ratio will be enough to make every pork lovers demand for more and top it off with the berry cream sauce, this dish is amazing. I highly recommend this dish if anyone wanted a fine piece of pork steak.
The Hogger Pork Ribs is one of their signature dish in Ante. This dish could cater up to 6 pax. It is perfectly grilled along with their homemade BBQ sauce. The hell with it. Even blogging about this ribs is enough to make me hungry at the moment. One of the best BBQ pork ribs that I had eaten. If you are over here for a meal with a pax of 6 or more, do place this in your order list. You will never regret it. Not until you weigh yourself the next day on the weighing machine. But it will be worth it.
I will find it offensive if you didn't feast upon this lovely crispy pork knuckle in sight. The perfectly fried crispy skin of the pork knuckle is to die off. The meat was tender and soft on the inside with a right amount of fat and gelatin balance within. Pork lovers would definitely go wild and crazy over how perfectly done this pork knuckle. Confused with which sauce would go best with the pork knuckle? My recommendation is dip all 3 and whack only!
I have a thing for spicy stuff and I couldn't resist myself in ordering the Volcano Sacrifice. The mild spiciness of the gravy goes well with the mashed potato and grilled pork but I can't help but to feel the meat was a tad bit dry. Probably because there wasn't any fatty layers to come with the meat to make it much juicier or the gravy is suppose to compensate for the dryness of the meat. If that's the case, I would felt that the gravy is definitely not enough to make this dish memorable for me.
I didn't had any of these cakes as I was too full from all the initial dishes. I think the cakes especially the cheesecake are quite a hit among the people there.
Thick and creamy cafe latte for the coffee lover. I love coffee and this coffee is definitely rich in flavour and would please most coffee lovers out there.
The thick but not too sweet hot chocolate. The rich chocolate taste is something to be noted. Especially good on cold rainy days.
In a nutshell, Ante Kitchen and Bar provides a huge variety of good food especially for pork lovers. I would personally recommend this restaurant as I had heard the food served are very much consistent in quality. This is definitely a place to be if you are looking for a place to dine in this Christmas.
For those who are wondering, visit Caroline's blog as she have something special for readers of her blog. So don't missed out on that.
Ante Kitchen and Bar
A2-G1-09, Solaris Dutamas, No.1 Jalan Dutamas 1,
50480, Kuala Lumpur.
Tel No: +6 03 – 6206 3364
Related posts: