Samsung had tremendous success with its Samsung Galaxy Note back in late 2011 and early 2012. It was a surprise to me actually because I initially thought having a 5″ screen would be a major turn off for most people. But in the end, that is also one of their main selling points in making it successful. So how do you top a phablet that proved to be successful for your company? Apparently it was to make it even bigger but still usable as a phone. I simply cannot brain it but I would love to see how they works.
I was invited to the Samsung Galaxy Note 2 launch and to be honest, probably one of the WORST launch events that I had to go through. Sorry to say this but the event was filled with so much unforgivable flaws, I could not help but to blog about it. The Samsung Galaxy S3 launch was quite good but this is quite far from that standard.
First of all, the parkings. I could not understand why would they chooses a venue which car parks are way lesser than the expected cars present for the event. Cars were parked every where and since I arrived late due to the horrendous traffic and terrible rain, I did not had a place to park my car. I somehow even felt 20% of the parked cars belong to the staffs rather than guests. What irritates me the most is the attitude of RELA members in charge of the car park. The car park is full, they did not give any warning beforehand for me that the car park is full and they decided to stand there and talk while looking at me foolishly entering a full car park, meeting dead ends and reversing from there. When asked about empty car parks, only they will tell that the car park is full. Really professional.
You expect a lot media members and guests but you did not provide enough place for each and everyone of us. I don't mind standing actually since it is my fault for being late, but even by standing, the place is way too crammed to even stand comfortably and let alone walk. I thought event planners always made a research regarding how many people could fit in the hall before sending out invites?
You have over hundred of guests there but you would only provide less than 10 cocktail tables? I only saw 3 cocktail tables but I am assuming there were more tables because I seriously do not wish to think the event can go until THAT bad. I like the talk show concept and also how the lucky draw system works. It was quite interactive. But other than that, the event management simply just blows. Not to mention we have to dine by the walkway. Serious? WALKWAY?!?!?
The talkshow approach is quite good as it makes the presentation a little bit more less casual. This would be good if they don't have the terrible event management.
Once the launch and talk show is over, there is a lucky draw where balloon fell and the winner will be the one who holds the congratulations paper will win a brand new Samsung Galaxy Note 2. After the lucky draw, we proceed to the exhibition area where it is in an outdoor tentage.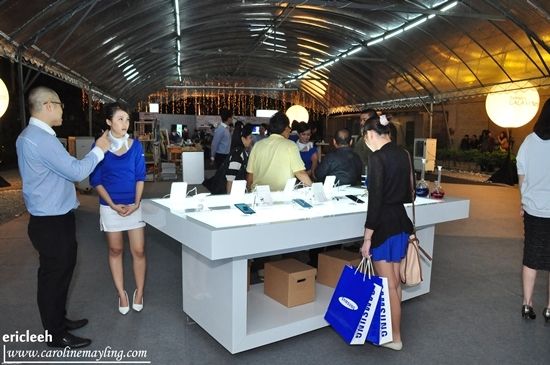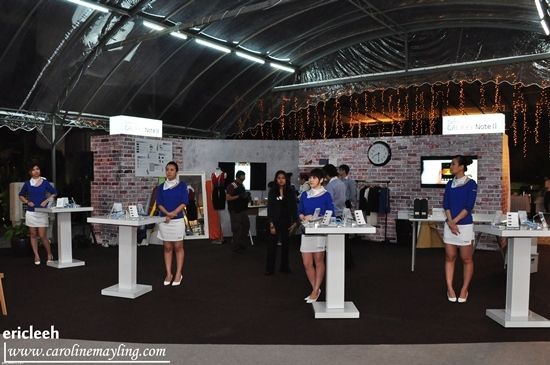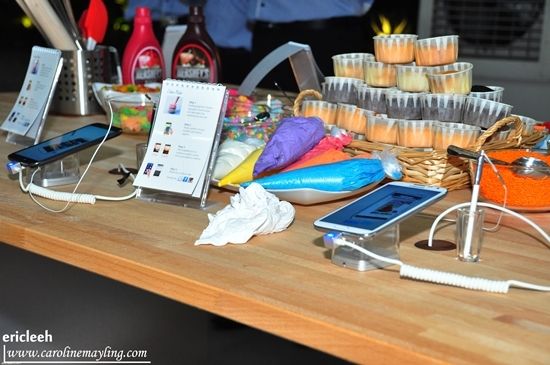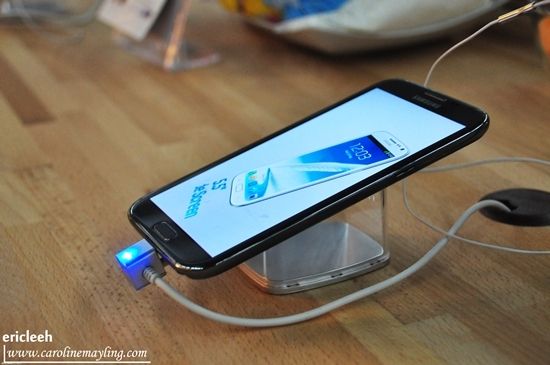 Enough of rantings, the highlight of the night would be the phone of course.  What I immediately tested out with the new Samsung Galaxy Note 2 is its S Pen stylus. This is because the predecessor phablet, S Pen, is quite bad. I know this because I own a Samsung Galaxy Note. The new S Pen has some really major improvements in it. It is much more responsive, smooth and also there is no noticeable amount of delay in strokes compared to the old one. This is pretty amazing as drawing on this Galaxy Note 2 would definitely be a fantastic experience.
With its 5.5″ screen size, I was thinking this size would finally be way too big to be used. I am surprise it is not. The size and dimension of the Note 2 have very minimal difference compared to the Note 1 and this is impressive. An increased screen size but still at a very pocketable overall size. Fans of large screens will go crazy over this. I a impressed.
The cameras are quite impressive as well with a 1.9 Megapixels front camera and also pretty much the back camera also improved a lot. With a 1.6 quad core processor built in, browsing and using the phone had been a very smooth experience for me.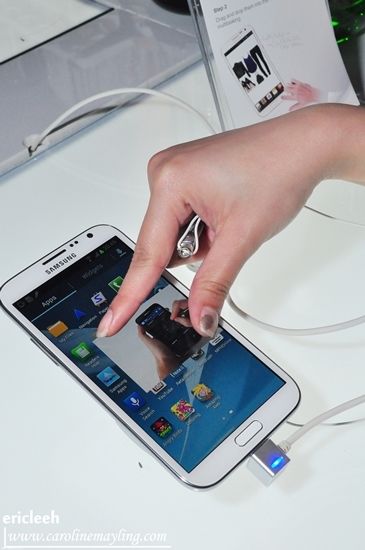 However, the REAL feature that I was looking forward to, the Multitasking feature which enables you to open 2 windows at the same time to work with was not tested as it was not updated to the pre-installed version. The Air View is pretty impressive and the pop-up play can now be resized to however size that you will like. That is pretty neatif you watch videos on your phone a lot.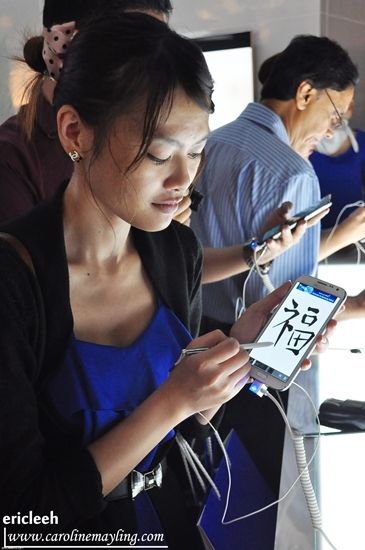 Here's a quick look at the specs of the Samsung Galaxy Note 2.
Runs on Android 4.1 Jelly Bean
1.6 GHz quad-core processor
140.9 mm (5.5″) HD Super AMOLED (1,280 x 720)
Battery, Li-ion 3,100mAh
Rear camera: 8 Megapixel Auto Focus Camera with LED Flash
Front Camera: 1.9 Megapixel VT Camera
4G compatible
S Pen Stylus
I couldn't really give a verdict regarding whether this phone worth the buy or not as I had not tested it fully yet. BUT if you are looking to get the new Samsung Galaxy Note 2, Celcom has a great deal for you. For as low as RM1498 with Celcom Plans, you can get your hands on this new Galaxy Note 2. If you want to purchase it from them, I would recommend you to purchase during their roadshow. This is because you will get FREE KFC Vouchers worth RM20, a FREE 6-month MUSICUBE subscription AND a RM120 rebate (RM10 x 12 months)
There will also be some lucky draw going on during these roadshows where you can win a  Samsung GALAXY S III, a Samsung GALAXY Note 10.1 and tickets to JLo's or Siti Norhaliza's concert.
Celcom has the widest network coverage throughout whole Malaysia at the moment. And they promise you the best network quality and also the richest internet user experience with its stable connection. Curious about the plans? Here is Celcom's plans and packages for the Samsung Galaxy Note 2.
Monthly Commitment
RM78
RM98
RM118
RM138
RM188
RM208
Voice Plan
Celcom First Prime 40
Celcom First  Premier 80
Celcom First  Elite 150
Mobile Internet
RM38
RM58
RM38
RM58
RM38
RM58
Data FUP
1 GB
3 GB
1 GB
3 GB
1 GB
3 GB
FREE Data
50 MB
100 MB
200 MB
Advance Payment
RM250
RM300
RM450
Amount rebated from 1st Bill onwards pending on usage
Device Price (12-month contract)
RM1,898
RM1,818
RM1,698
Device Price (18-month contract)
RM1838
RM1,688
RM1,498
For more information on Celcom plans and packages, visit www.celcom.com.my
And for details regarding the roadshow, here it is.
19 – 21 October 2012
Getway  Sdn Bhd, Carrefour Wangsa Maju
Phonecraft Sdn. Bhd., Giant Hypermarket Kota Damansara
Full Line Communications Sdn Bhd, Tesco Ampang
Blue Cube Plaza Metro Kajang
       26 – 28 October 2012
Double Team Station (M) Sdn Bhd, E@Curve
Mobile Camp Enterprise, The Summit USJ
Blue Cube KLCC, Suria KLCC
Blue Cube Giant Meru, Giant Hypermarket Klang Sentral
Three C Technology, Sunway Carnival Mall
Blue Cube Jusco Seberang Prai, Aeon Seberang Prai City Shopping Centre
Blue Cube Queensbay Mall, Penang
Blue Cube Greentown Mall, Perak
       2 – 4 November 2012
Blue Cube Pavilion, Kuala Lumpur
Blue Cube Setia City, Setia City Mall
Speed Line Communication, Suria KLCC
Blue Cube Giant Meru, Festival City Gombak
Chop Hock Soon, Port Dickson Centre Point
Net Two Trading, Bunga Cempaka Biru, Parit Raja, Batu Pahat
PCS Telecommunications Enterprise, Giant Hypermarket, Plentong, Johor
UI Mobile Phone, City Square, Johor Bahru
Related posts: