When you talk about party of the year, most people in their mind would have the name Hennessy Artistry popped up. Do you need a reason why? Frankly, I don't know as I had never been to any of the Hennessy Artistry before in my life as I'm not much of a party goer. Hence, I want to find out. I want to know is all the fuss about. I want to know why is it considered one of the MUST go event in Malaysia every single year. So this coming 8th September 2012, Hennessy Artistry is back in Kuala Lumpur, Malaysia. This would be their second installment of 2012's Global Art of Mixing Trilogy after the
first installment at SQCC Penang last June
. This is going to take place at Level 15 KWC Kuala Lumpur. And since it would be my virgin experience of the Hennessy Artistry, I decided to call a veteran to guide me and lead me with the do's and don't's of partying Hennessy Artistry style. He is none other than our Internet Purple Icon (not a relative of an extremely annoying to me and talking purple dinosaur)
Ernest Ng from Bro, Don't Like That La Bro.
Hennessy Artistry @ Level 15, KWC Kuala Lumpur – 08th September
The Hennessy Artistry is often filled with some unique fun factors especially with some interactive party elements like the Hennessy 360 Cam they introduced this year. You will get a taste of your favorite Hennessy V.S.O.P long drinks at the Hennessy Mixing Bars that serves Hennessy Apple, Hennessy Berry, Hennessy Ginger and Hennessy Soda.  To top the fun of it, you will be served by some gorgeous Hennessy Artistry ambassadors at the bars.
Various Hennessy drinks
I actually have a few reasons why this party is worth all that fun going. Here is why.

If you are wondering what kind of artists that would be featured in this upcoming Hennessy Artistry 2012 Kuala Lumpur, below are the profiles of the vocal-powerhouse Eva Simons and a list of talented DJ's that are no longer stranger to party goers that would keep you pumping all night long. Check them out below!
Eva Simons
Eve Simons (Netherlands)
Headlining H-Artistry this September at KWC KL, Dutch vocal powerhouse and EDM siren Eva Simons as come a long way since her beginnings. Back in 2009, Eva Simon's track entitled "Silly Boy" started to gain popularity on the internet and received attention from the likes of Kanye West. Bolstered by this initial success, Simons went on to sign a worldwide record deal at EMI, which led to even more notable records from her up to mid-2010. This was when Eva Simons & Mike Hamilton (also known as the writing team Topline Ink) wrote the song "Take Over Control".
In 2011, Eva Simons went on to sign another major record deal in the US and was featured on LMFAO's track, "Best Night", subsequently joining the Los Angeles party rocking duo on their "Sorry for Party Rocking" tour. In addition, Simons has also collaborated with will.i.am on tracks for his upcoming solo album.
Check out :
Afrojack ft. Eva Simons – Take Over Control
will.i.am ft. Eva Simons – This is Love
Angger Dimas
Angger Dimas (Indonesia)
Hailing from Jakarta, 24 year old Angger Dimas is the epitome of young DJ-ing talent from around the region. Commanding an underground cult following in the party scene of South East Asia's largest etropolis, Dimas started out young by picking up the guitar at the tender age of 7. His pursuit of creating electronic dance music (EDM) began 3 years ago when he debuted his DJ-ing career in 2009. In a short span of time, Dimas' talent landed him a record deal with Australia's mighty Vicious Recordings in early 2009. Dimas went on to spend the rest of his early years fine-tuning his craft, making a huge impact not only in Jakarta's thriving club scene, but also amongst international electro house / EDM heavyweights such as Laidback Luke and Steve Aoki.
Dimas' debut release "Duck Army" has been played by the likes of Tocadisco, Joachim Garraud and Laidback Luke, while another Dimas track entitled "She Got It" was dropped by Sebastian Ingrosso as his opening track at the famed "Sensation" event, in front of a 20,000-strong Melbourne crowd. Dimas' tracks are often included in the playlists of David Guetta, Chuckie, Armand Van Helden, Steve Aoki, Laidback Luke and Axwell.
Check out:
Dimitri Vegas & Like Mike, Yves V., & Angger Dimas – 
Madagascar
B.A.T.E ( Brain And The Eye )
B.A.T.E. aka Brain And The Eye (Malaysia)
B.A.T.E., made up of local duo Wai Hong and Ethan Curzon, are two fast rising nu-breeds aspiring to be he
next big DJ duo in the local scene. Despite being relatively new, B.A.T.E. are no strangers to Kuala Lumpur party goers. The duo is frequently spotted tearing up the decks at various nightspots around the city such as Barsonic at Zouk, Vertigo, LUST, Bakita and Bedroom.
Known for their hand-picked selection of only the finest tunes in Disco, Techno, Big Room and Electro, B.A.T.E. are heavily influenced by EDM juggernauts such as Laidback Luke, Boys Noize and Steve Angello. Eager to set the energy and pace this 8 September at H-Artistry, party goers can expect an adrenalin-laced set with lots of fist-pumping moments as B.A.T.E. brings their eclectic sound to the biggest party in Kuala Lumpur this September 2012.
Nasty and GuruGuru aka Bass Agents
Nasty and GuruGuru a.k.a Bass Agents (Malaysia)
Infamous household names of the Kuala Lumpur party scene, Nasty and GuruGuru who come together as the Bass Agents need no introduction. Anchoring the hipster continent of Zouk Club KL, with their monthly residency at Basonic, the Bass Agents have well established their mark in the region with their complex and edgy lashings of electro, hard trance and hard style.
 Known for their dirty, energetic electro house and big room tunes, their monthly parties at various locations around Kuala Lumpur such as CTRL at Zouk, Avant/Garde at Vertigo and TOP at Bakita have earned them borderline cult status and potent street cred. The Bass Agents will be hitting the overdrive button at H-Artistry as they push energy levels through the roof, all the way until the end of the night.
So all this cool crazy stuff are happening at Level 15 Kenanga Wholesale City, Kuala Lumpur, Malaysia this 8th September 2012. Do you want to miss it? I'm not sure about you but I definitely look forward to my very first experience of hot chicks dancing and grinding to each other and free booze enough for me to make a swimming pool for skinny dipping I mean, Hennessy Artistry. By the way, this event is only open to those above the age of 18 years and also non-Muslims.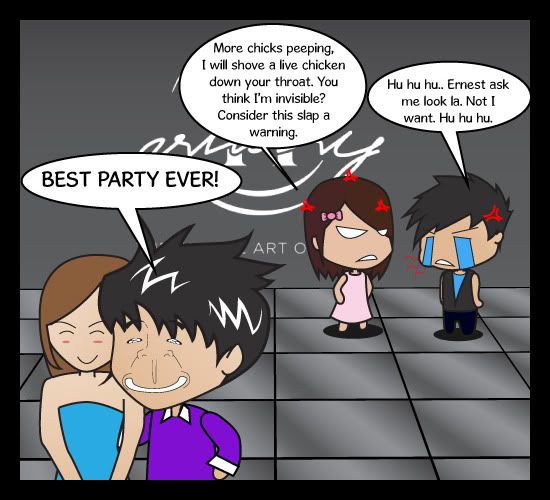 Related posts: