If you stay in Selangor/Kuala Lumpur long enough, you wouldn't be surprise by the jam that each and everyone of us face each day. I have no short of such experience and honestly, after so many years with the traffic, I still gets irritated by the darn traffic. Here, I want to share one of the most common scene in morning traffic jams. Basically, I believe every Malaysians would find this way too common as well. And it is irritating as hell facing this situation.

Yeap. I admit it. I joined in the bandwagon of creating an extra lane for certain areas because this affects my time greatly. If I were to be a good guy and remain in my lane, I would take up AT LEAST 15 minutes extra time compared to being a total ar*e on the road. Within that time, I could already reach one of my destination already and be on my way to another. That's how big a difference is.
And I actually thought of instead of making it a temporary third lane, they should just make a permanent one because it is a 5 lanes road and the other 3 on the right were rarely used. You will know what I mean if you frequent that junction that heads to Jalan Gasing from the NPE highway. So what happens after the existence of a temporary third lane? What major changes had it done? How greatly has it affect the terrible traffic condition and road ethics? How much it had helped the drivers on that particular road?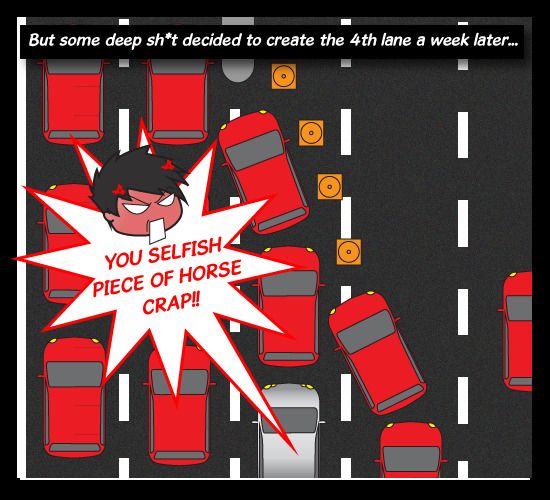 Honestly, not a damn thing has change.
Related posts: