I do not want to generalized everyone like that. What I meant in this post of mine, is a large collective of people generally, who are not bloggers. Now I know there are non-bloggers who are not as I described below but this is actually what really most non-bloggers thought of us. In fact, clients as well. I know because I tried to help several "clients" or I would prefer to call them as friends, to look for bloggers for their business. In fact, I had even clients approached me and also some Q&A questions with my friends which led me into this conclusion. Do read with an open heart.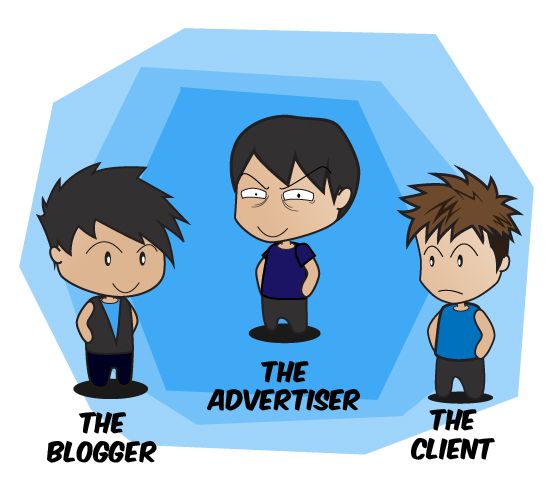 To make things less confusing, this is the guide to the characters about to come into this post.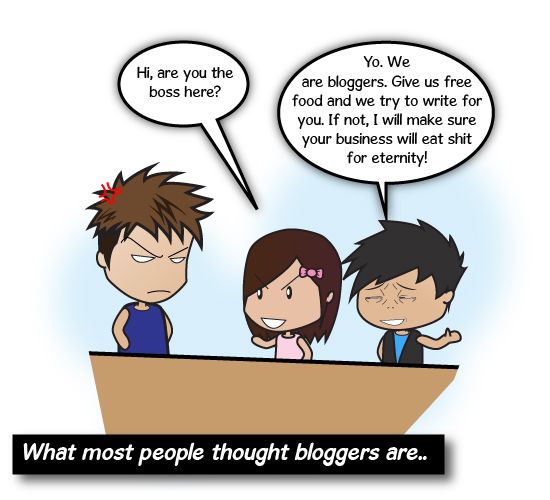 What most people thought the bloggers, especially food bloggers, that we can actually demand to dine for free at any restaurant. There might be one or two beggars disguised as "Datuks" among us, but most of us don't. We have too much dignity to do that and we still take ourselves as common people and pay for our damn food. The food reviews we went, are mostly invited by the restaurant owner themselves. The ironic thing is this. When we were invited for a food review, people claim we only want free food but if they were put into our position, they will jump straight into it. And the thing is, it is NOT free. Yes. Not free. This is because we have to blog and write for it. It is a form of advertisement. When people google search a certain type of food or events, blogs serves as an advertisement tool in introducing the food or events in a layman's point of view. Not much people actually understood whatever Gordan Ramsay or Jamie Oliver said right? How much value are blogs? Most blogs have several hundreds of visitors a day and even thousands. That serves the exposure probably more than magazines lately. Free food? Fat chance. We work for it.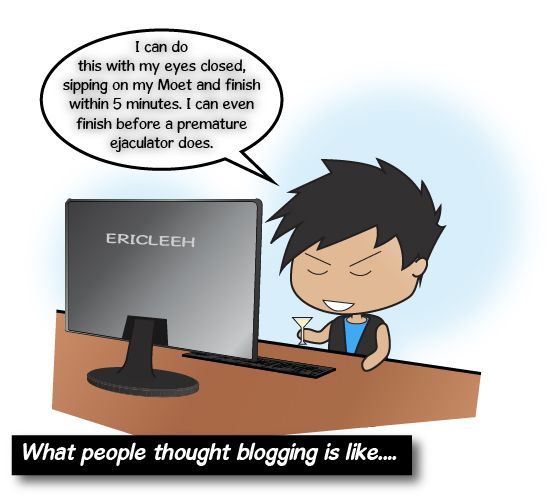 And then when we blog, surprisingly this is what most people thought we are doing. Well if it is that easy, everyone will have fame equivalent to Xiaxue or Sixthseal. But, it is more like this.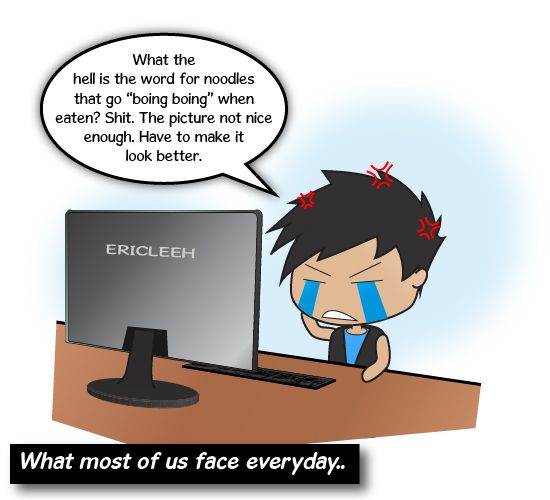 Besides thinking on how to compose a blogpost the best way we could, we have to think about the pictures we had for it. Remember the times when you are in school doing your essay or "karangan"? This is the same PLUS editing pictures and meeting deadlines most of the time. And no. Majority of us don't do this for a full time. We have to do it outside our working hours or when our bosses were too preoccupied coming up with reason to fire our asses. One shitty picture could ruin your blog's credibility and yes, I know it.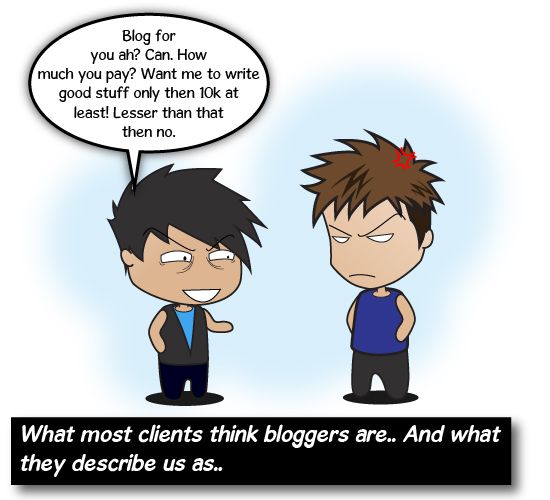 There are a lot more things but a money blood sucker is the common one. Some felt they shouldn't even be paying for unprofessional work especially one that wasn't laced with flowery and powdery England. Bloody hell.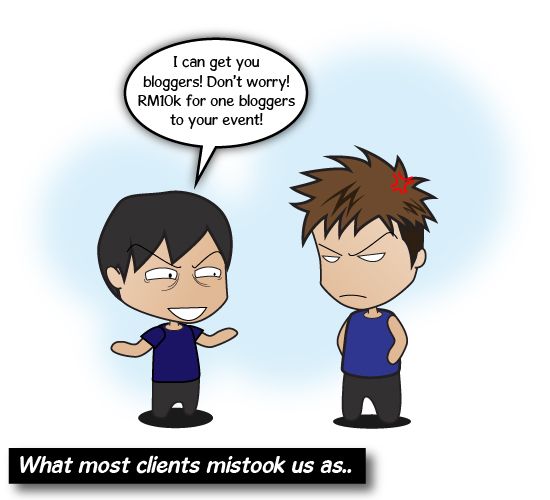 But most of the time, we are not the ones ripping u off. The advertisers are the ones. And I wouldn't say all of them. Just several ones. So clients, do you know how much you actually pay your bloggers for sometimes?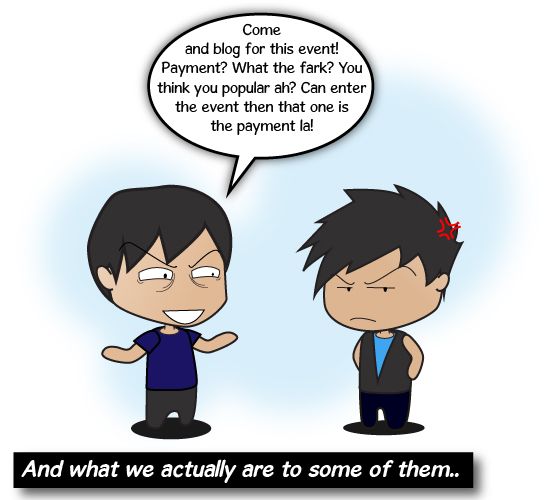 Surprise, sometimes absolutely nothing. Of course, I do understand that this is purely business for advertisers but please don't take for granted both clients and bloggers. Let your clients know how much you are actually paying the bloggers and not kept them in the dark about it. This is the main reason why so many clients bad mouthed us. Because they thought they paid shit loads of money to bloggers and yet we did not come up with any good write-up for them. You want a good write-up? Improvise whatever you are trying to promote. So if clients have money, isn't that better for them to directly deal with bloggers as well? Why do bloggers still taking up jobs from advertisers? It is easy actually. Here it is.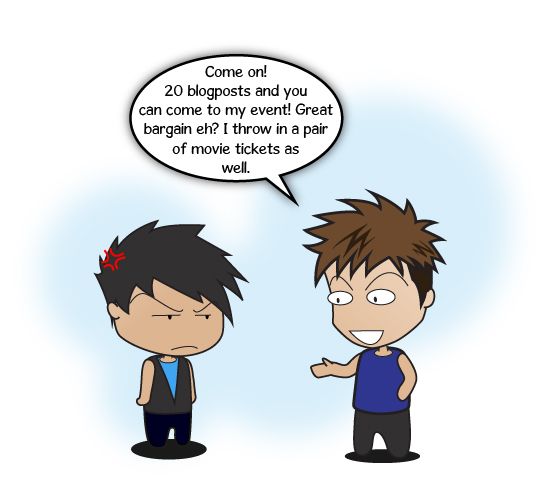 This is what clients usually do when they directly approach bloggers. And this usually happens when clients wanted some bloggers but refused to pay much. They offer ridiculous deals to bloggers and went really overboard. There was a BIG company, let's call it R here, which spark my impulse to write this post regarding Bloggers And |Advertisers. They actually offered bloggers a pair of movie tickets in exchange for a review for their product. Not 3D, not imax but just plain movie tickets. That is downright insulting and this is why bloggers still go to advertisers. Advertisers keep both bloggers and clients in check. They make sure both are playing their roles sensibly and not becoming Hitler. If you still think movie tickets are reasonable pricing, why not try pumping Coca-Cola into your car instead of petrol? Or just drink water from the toilet bowl. I bet these two are reasonable as well. You can't possibly pay a Roti Canai price in hoping to get a T-bone steak, do you?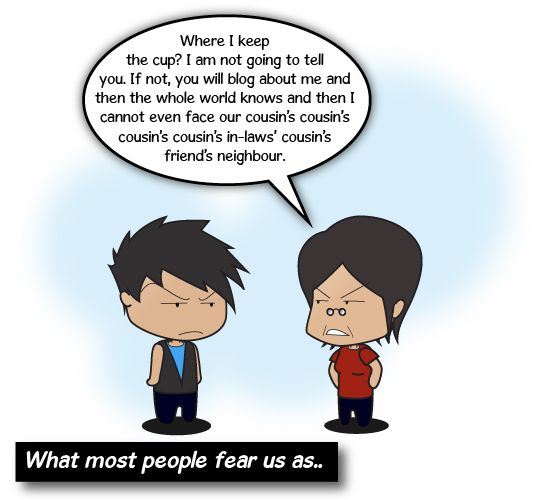 What? Not everyone has the influence power of Xiaxue or Perez Hilton. More importantly, how often do see a blog post getting viral? In fact, sad to say, people no longer follow blogs like last time. Why? Because there are so many more to be done on Facebook. That's why. Even if I blog about free gold, not much people would actually read it. Unless it is free s*x or p*rn. That's what the internet is for. But you know what is most damaging and even more image threatening than a blog?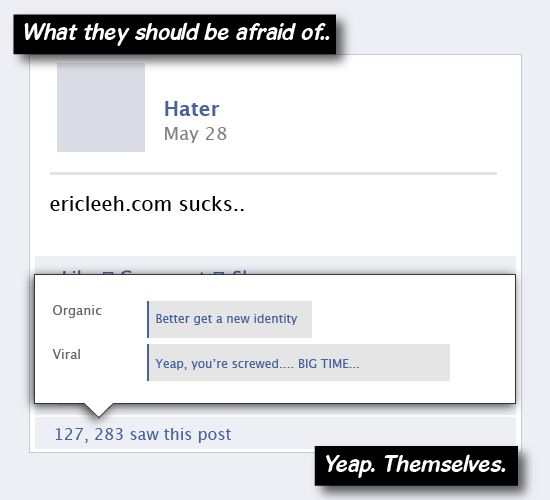 Facebook. As you see, blogs are usually seen by followers or search engine results. Only very few blogs have dedicated followers. But Facebook, on the other hand, is worse. Liking a simple picture or share it, you will get virality. Which means, even if people did not purposely look for your stuff, they will see it. Blogs could only maintain so much virality and visits are due to the fact of them being shared on social media. For example, if I do not share this out, high chance a lot of people wouldn't even know I had updated. High chance people will even forget this blog exists. That's how much Facebook and Twitter had contributed in gaining traffic for me. So rest assured, people only search for events and food lately. And of course without a doubt, p*rn.
Related posts: