It's a common saying that your mother or your wife/girlfriend would be the only ones who knows how to appreciate you. But if you ask me, I would say that they are the only ones that dare to insult you in your face for your own good. Take for example my case, as most people would have know, I am not physically ideal or fat if you wanna put it in a more common and understandable term. And who would be the first to tell that fact to my face but two of my closest woman in my life. However, with a ironic twist to it.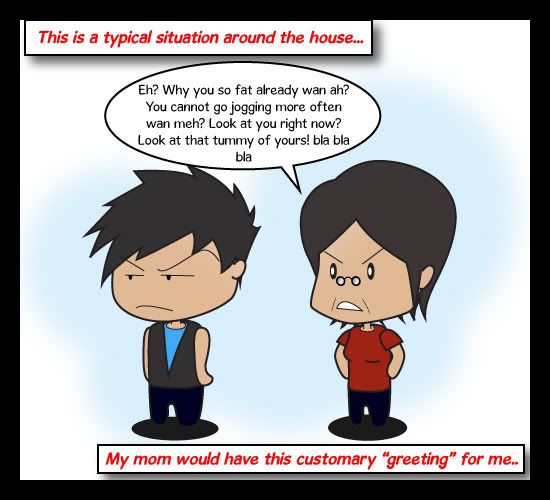 Yeap. Most of the time, I get all sorts of nagging both from my mom and Caroline regarding how much weight I put on. The lecture never ends. May be because I never learn my lesson to them. But then again, it's a little more complicated that what they think. I mean, who doesn't want to have an ideal body shape? Everyone does. But sometimes, the "greetings" got a little bit out of hand. Especially when they do it when I'm under a lot of stress or having a bad day. Just pouring all the oil over the fire I had inside.
Sometimes, the most ironic thing about love is, they tend to offend you while knowing it is for your own good. Pretty much those "compliments" had became a norm to my life. It's just like an itch on my butt which can't be scratched away. But then again I love them two the same. But if I do the same, hell breaking loose can be ensured and I might not be able to survive a day of offending them much like how they did me.
But then again, this post is just for fun. Thought that I do something a bit light this time. So how about you? Do you have a close relative or loved ones that always been telling you things that you wouldn't like to hear?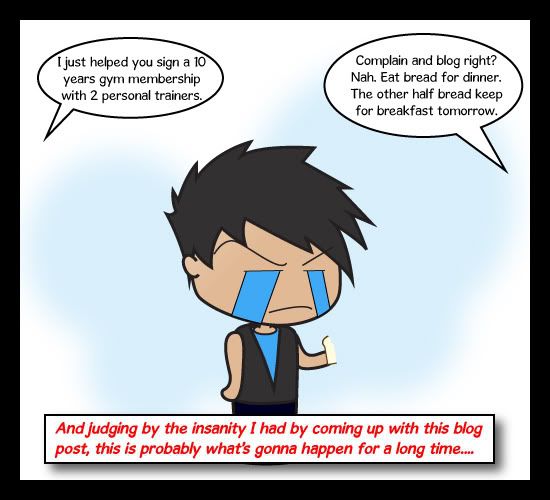 Ok. The reason why I refrained from typing too much is I do not want the above situation to get any worse. Sucks when you actually know what is installed for you in the coming future. This is exactly why I tweeted that this would be a suicide post if things gone wrong. Way wrong. Till then, hopefully I can make it to my next blog posting!
P/S: On another note, do like my Facebook Page which is HERE. As I would be once awhile putting up comics exclusively for Facebook only. Well, no obligations here but I might secretly throw darts at a paper with your name written on it while yelling "YOU SON OF A GUN!!!".
Related posts: