It is Wednesday! Sorry for not posting yesterday as I am drowned with a lot of work. Didn't expect it to be so much work as soon as I get back from work. But anyway, how was your holiday? Manage to go anywhere for a short getaway? If you did, manage to take some pictures? Pictures with your friends or with your loved ones? Well, this is a story about taking pictures with someone else. Or camwhoring pictures I might add. I bet most of you guys had some experience in taking part in one right? Well, here you go!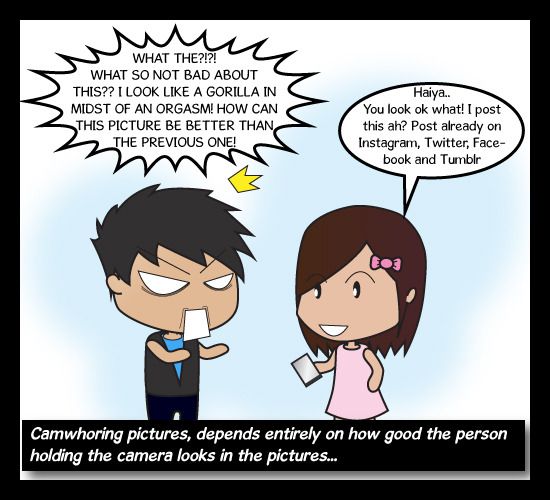 Yes, this happen quite often. As you can see from some of our pictures, I looked fat and then Caroline just didn't care and uploaded those because she looked good. On the other hand, when I looked OK but she has a single strand of hair falling off, she would immediately want another picture to be taken instead. The power of determining how some of your Facebook pictures depend entirely on the person holding the device. Not to mention it is my phone most of the time. Camwhoring is such a one-sided affair most of the times. It was until I bugged her often that she would only want to retake the pictures. Sometimes, I was too lazy to care which is why you see I uploaded bad pictures of myself on Instagram or Facebook. I wasn't the one who uploaded it at all!
So how about you? Have another camwhoring story to share with me? Do let me know by commenting! Would love to hear that!
Related posts: